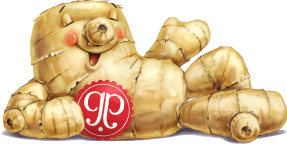 Frequently Asked Questions
hidden item
Where can I find your products?
You can purchase our products online or use our store locator to find the nearest outlet that carries our brand. Product selection will vary by location, so we recommend you contact your retailer first to confirm they have the ginger item(s) you're searching for in stock.
Can I buy your products directly?
We do not sell our products directly to consumers. However, we have many online etailers and stores throughout the world who carry our products. 
Do you have samples available?
Why are my Gin Gins® dusted with white powder?
The fine white powder on our Gin Gins® is finely ground cane sugar. We use it to help reduce the stickiness of our candy. This is all done by hand, so the amount of surface powder can vary from piece to piece.
Do you have recipes for your products?
Yes, we have a recipe section on our website. If you would like a specific recipe that is not on our website or you would like to submit your own recipe, email us at [email protected].
What is the shelf life of your products after opening?
| | |
| --- | --- |
| Gingerade | Once opened, refrigerate and consume within one week. |
| | |
| Minced Ginger, Grated Ginger, Sushi Ginger | Once opened, refrigerate and consume within three to four months. |
| Ginger Juice | Once opened, refrigerate and consume within three months. |
| Ginger Sauces | Once opened, refrigerate and consume within three months. |
| Crystallized Ginger | Once opened, if stored in an airtight container, crystallized ginger will last for two years. |
| Gin Gins | Our candies are individual wrapped and enjoyed in one or two bites. |
My product expired on x date, is it still safe to eat?
If the product has passed the expiration date indicated on the package, we recommend it be discarded. Products are safe if stored properly even after the Best By date but the quality may change, and we can only guarantee its deliciousness up until its best by date listed on the package.
Which of your products require refrigeration after opening?
Once opened, you should refrigerate our Ginger Juice, Minced Ginger, Grated Ginger, Pickled Sushi Ginger, Gingerade and Ginger Sauces. We do not recommend refrigerating our Ginger Syrup or Ginger Spread, but suggest it be stored in the pantry like honey.
Where is the best before date on your products?
All of our products are date stamped with their Best Before dates. Most date codes are placed in the most obvious spot possible. Our sauces are date stamped on the glass, so the Best By can be challenging to see. If you can't find it, please reach out to us. We're here to help — [email protected]
Do any of your products have a risk of cross-contamination from allergens?
All our suppliers follow rigorous standards to prevent allergen cross contamination. However, many of our products are produced and/or packed in facilities that process allergens, such as peanuts and soy. All of our products have allergen statements listed on the packaging (if applicable). We recommend checking with your physician if you are concerned about your particular sensitivities.
Do your products contain sulfites?
We follow FDA guidelines and conduct rigorous testing to ensure our products meet or exceed the government regulations with regard to sulfites. Our Crystallized Ginger products may contain trace amounts of sulfite, but under the 10ppm FDA detectable level.
Who organically certifies your products?
Our products are certified by a few different organizations depending on where we make them. Our certifying bodies include German-based BCS ÖKO-GARANTIE GMBH, Australian Certified Organic, the U.K. Soil Association, Oregon Tilth and Quality Assurance International. Ultimately, our organic products meet the standards and carry the logo of the USDA.
Are your products all natural?
Our products do not contain any artificial colors, flavors, sweeteners or preservatives.
Do your offer tours of your Marina headquarters?
Although we're happy to see you, our Marina headquarters is a "heads-down" sales, marketing, quality assurance, logistics and accounting operation. If you stop by, we may put you to work!
Do you have any vegetarian and/or vegan-friendly products?
Yes! Our entire line is vegetarian, and almost all of our products (with the exception of our Gingerade and Ginger Peanut Sauce as they contain honey) are vegan-friendly, and do not contain any animal products or use any animal ingredients in production.
How much ginger is in your products?
Crystallized Ginger: 10 grams contains about 7000 mg ginger
Ginger Juice: ¼ teaspoon contains about 1200 mg ginger
Gingerade: 12 fl oz contains about 11,000 mg ginger
Gin Gins Super Strength: One piece contains about 840 mg ginger
Gin Gins Chewy Ginger Candies*: Two pieces contains about 960 mg ginger
Gin Gins Hard Candy: Three pieces contain about 1250 mg ginger
*Original, Spicy Apple, Peanut