HEALTH BENEFITS OF GINGER
Anti-Nausea
Ginger helps you through the tough stuff! Recommended for nausea and vomiting for pregnancy1, ginger is also effective against nausea after chemotherapy.2
Digestion
Ginger makes you feel good on the inside. Phenolic compounds in ginger stimulate digestion3, relieving gastrointestinal irritation and improving gastric mobility.
Circulation
Ginger makes your heart happy. Findings show gingerols from ginger prevent abnormal coagulation and improve circulation.4 Ginger intake lowers cardiovascular-related risk factors.5
Anti-inflammatory
Moving gingerly? Add spice to your life. Ginger contains analgesic and anti-inflammatory phyto-chemicals (gingerols, shogaols) believed to soothe joint and muscle pain.6
Antioxidant
Life is better with ginger. Strong antioxidant properties of ginger are known to promote longevity by protecting cells from damaging free radicals, which can cause disease.7
Metabolism
Go, Ginger! Rev it up! Gingerols and other phenolic compounds in ginger relax peripheral blood vessels and promote sweating—properties that increase blood flow and metabolism —an energizing effect.8
—
(1) Am Coll Obstet Gynecol 2021; (2) Integr Med Insights 2016; (3) J Acad Nutr Diet 2019; (4) Molecules 2012; (5) Nutrients 2020; (6) Phytother Res 2020; (7) Phytother Res 2020; (8) J Nutr Biochem 2019, Food Rev Int 2019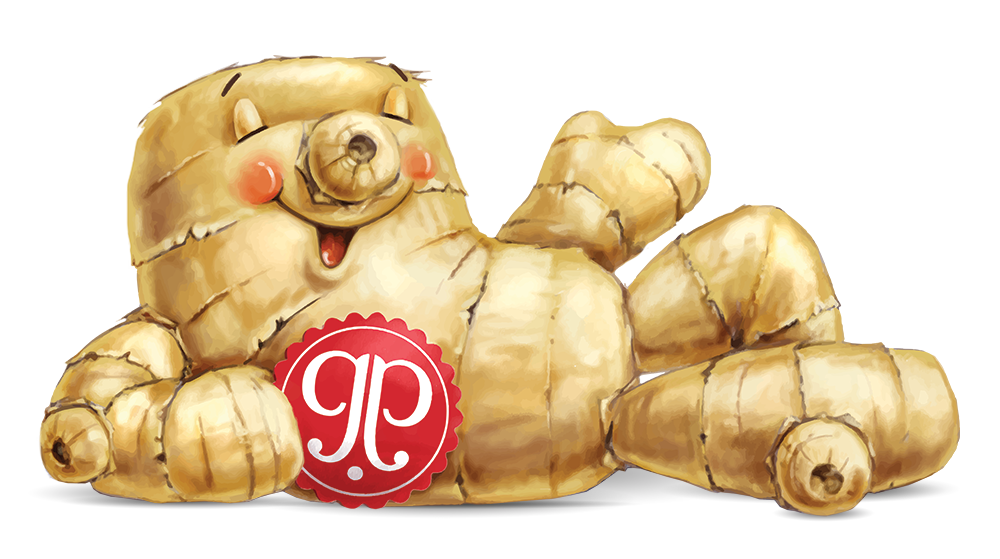 Ginger has been used for its anti-inflammatory properties for at least 3000 years

Gingerol is one of the phytonutrients in ginger with potent antioxidant properties

Turmeric is a member of the ginger family

Ginger is naturally energizing
There's 2 1/2 lbs of ginger in one bottle of our Ginger Juice (32 fl oz)

Ginger is not just nutritious, but ridiculously delicious!

Eating one Gin Gins® candy is good, but why stop there? (Oh, snap! My bag is empty.)

Life is better with ginger 🙂
Health Benefits of Ginger
Treats Many Forms of Nausea, Especially Morning Sickness
A 2009 study funded by the National Cancer Institute found patients who consumed ginger had significantly reduced nausea following chemotherapy. Read about the study 
here
According to the Washington Post there was another study at Brigham Young University and Mount Union College in Ohio. The article reads"…powdered ginger root was better than Dramamine — a common anti-motion-sickness drug — at suppressing motion-induced nausea." See the article here
Anti-Cancer
Studies at the University of Singapore have shown that ginger may be a cell modulator in cancer cells. Shogaols, a constituent found in ginger, exhibit potential in suppressing cancer cell invasion and inflammation in breast carcinoma cells.
Cold and Flu Remedy
Fresh ginger is known to have strong antiviral properties, which can help to tackle cold and flu viruses. The other properties ginger has for soothing the throat, relieving aches and pains and settling the stomach can help to lessen the symptoms of colds and flus.
Migraine Reliever
A study published in Psychotherapy Research showed ginger to be equally as effective as prescription drug Sumatriptan at preventing the onset of migraines and reducing their severity. Ginger has the added benefit of having no serious or frequent side effects associated with its use medicinally.
Aphrodesiac
Ginger has been used in Eastern medicine as a libido stimulant for centuries. It is thought that libido is improved thanks to ginger's effects on improving circulation and blood flow and increasing energy levels.
Anti Flatulence
Ginger has many digestive benefits and is used by many cultures for the relief of flatulence.