Bloated bellies and tight-fitting pants don't have to be a holiday tradition if you eat healthy at Christmas.
All of the holiday sugar and spice can make it hard to eat healthy at Christmas. Is it possible to avoid bloating and weight gain during the festive season? Yes, you can enjoy all of your favorite holiday foods and still eat healthy at Christmas. Incorporate a few of these simple tips from nutrition experts into your holiday traditions, and you can avoid bloating and weight gain without giving up all of your favorite savory delights or sweet treats.
How to Eat Healthy at Christmas
For many of us, holiday traditions center around large tables piled high with some of the most indulgent foods of the year, from scalloped potatoes to pumpkin pie. One way to make it easier to eat healthy at Christmas is to have some healthy options on the table. Worried healthy dishes are too boring for a holiday feast? Introduce a few new friends to the table this year, such as honeynut squash or candy cane beets. Crowd-pleasing roasted vegetables are easy to prepare and travel well to a potluck feast. Appetizers are a great place to sneak in more vegetables. Swap out the traditional chips and dip appetizer for a tray filled with gorgeous, crisp vegetables, such as watermelon radishes, carrot sticks, and orange cauliflower served with red beet hummus. Last, but not least, is an insider tip from nutritionists for those hoping to avoid weight gain: never arrive at a holiday feast starving. When you are hungry it is even more difficult to resist the goodies and eat healthy at Christmas. Enjoy a salad at home before you go, or if you're in a rush munch on a piece of fruit on the way over to the celebration.
Ways to Avoid Bloating and Eat Healthy at Christmas
From those rich, traditional holiday dishes to the fancy, bubbly drinks, it can be hard to avoid bloating during holiday feasts. Here are some tricks nutrition experts use to avoid bloating and enjoy holiday feasts:
Be Aware of Food Intolerances – skip the dishes that notoriously bother your belly.
Chew on Ginger – ginger has a long history of medical use to relieve abdominal discomfort.
Avoid High-Fat Foods – they are hard for your digestive system to process.
Skip the Bubbly – carbonated drinks contain bubbles that can exacerbate bloating.
Go for a Walk – light exercise after eating may help reduce bloating.
Sit Up Tall – avoid reclining after eating (studies show it can help reduce symptoms of bloating).
Can Ginger Relieve Bloating?
Yes, ginger has a long history of medicinal use to relieve abdominal discomfort, intestinal gas and flatulence, as well as nausea and vomiting. If bloating bothers you, try this brilliant idea: place a little ginger chew in your pocket. It will come in handy when you need help with bloating (or worse, flatulence).
Disguised as a simple looking root, ginger has been shown in research studies to possess some impressive abilities to help your digestive system feel merry over the holidays. Ginger can stimulate movement in the digestive system. When your stomach is encouraged to empty, it may reduce some feelings of pressure in your belly. Ginger improves absorption and movement in the digestive tract, reducing how long food sits there, fermenting and creating gas bubbles. Plus, movement of the digestive tract helps unlock constipation, helping relieve bloating. Plus, ginger has anti-inflammatory and antioxidant effects in your body. Better yet, spread the digestive holiday cheer and pass around a bowl of chewy ginger candy to your loved ones. Let's all enjoy less bloating this holiday season.
How to Avoid Holiday Weight Gain
Let's jingle, not jiggle, all the way home this Christmas. Did you know that studies show the average person gains about 1 lb between Thanksgiving and Christmas in the United States? But it is possible to enjoy the holidays and eat healthy at Christmas. Try these simple holiday eating tips – they are effective ways that can help you avoid weight gain:
Set Realistic Goals – the holidays are delicious times, you don't have to always be perfect.
Indulge a Little – pick your favorite treat and enjoy it; instead of eating some of everything.
Fill Up on Plants – when you eat lots of vegetables it fills you up; it's easier to resist treats.
Be Merry Together – get your dinner mates on board with eating healthier foods this year.
Give a Cheer – get outside and enjoy holiday activities; exercise is part of a healthy lifestyle.
Toast Your Health – drink water; studies show alcohol turns on hunger signals in the brain.
You can avoid bloating and weight gain this holiday season while still enjoying your favorite traditions by adding a few of these tips from nutrition experts. Incorporate a walk into your holiday schedule, pack some ginger in your pocket, and reach for more vegetables and water. It's going to be your healthiest holiday season yet!
___
References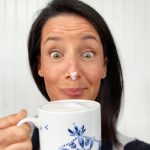 Allison Tannis MSc RHN: Known for her deliciously geeky words, Allison's books and articles are read around the world by those curious where are the most nutritious (and delicious) places to stick their forks. More at allisontannis.com. Follow @deliciouslygeeky.