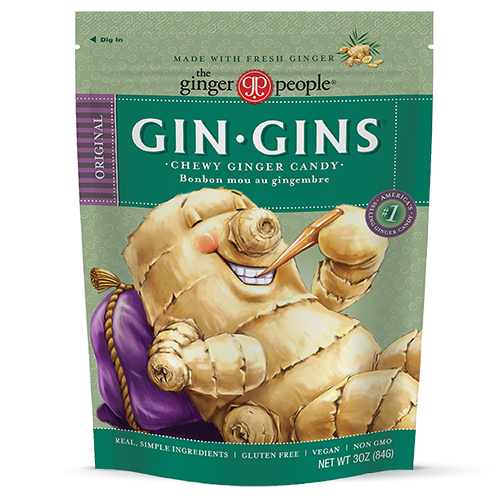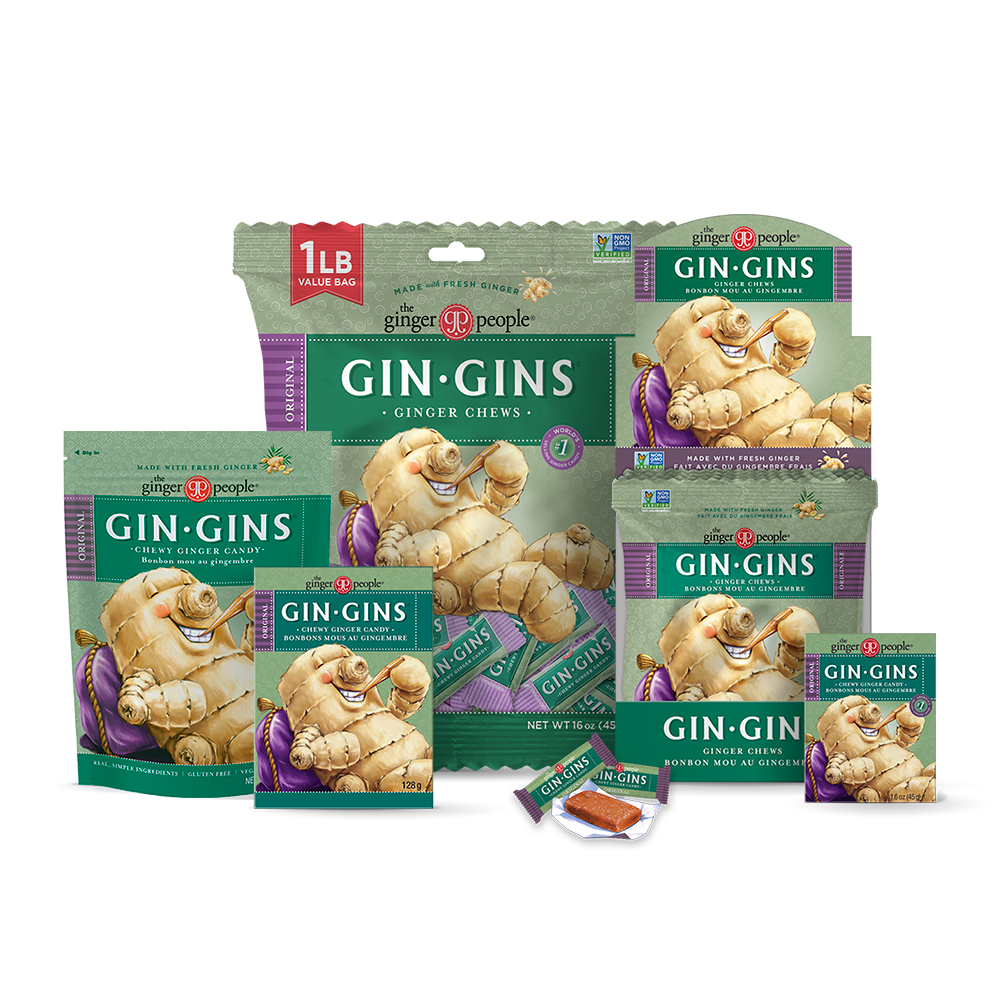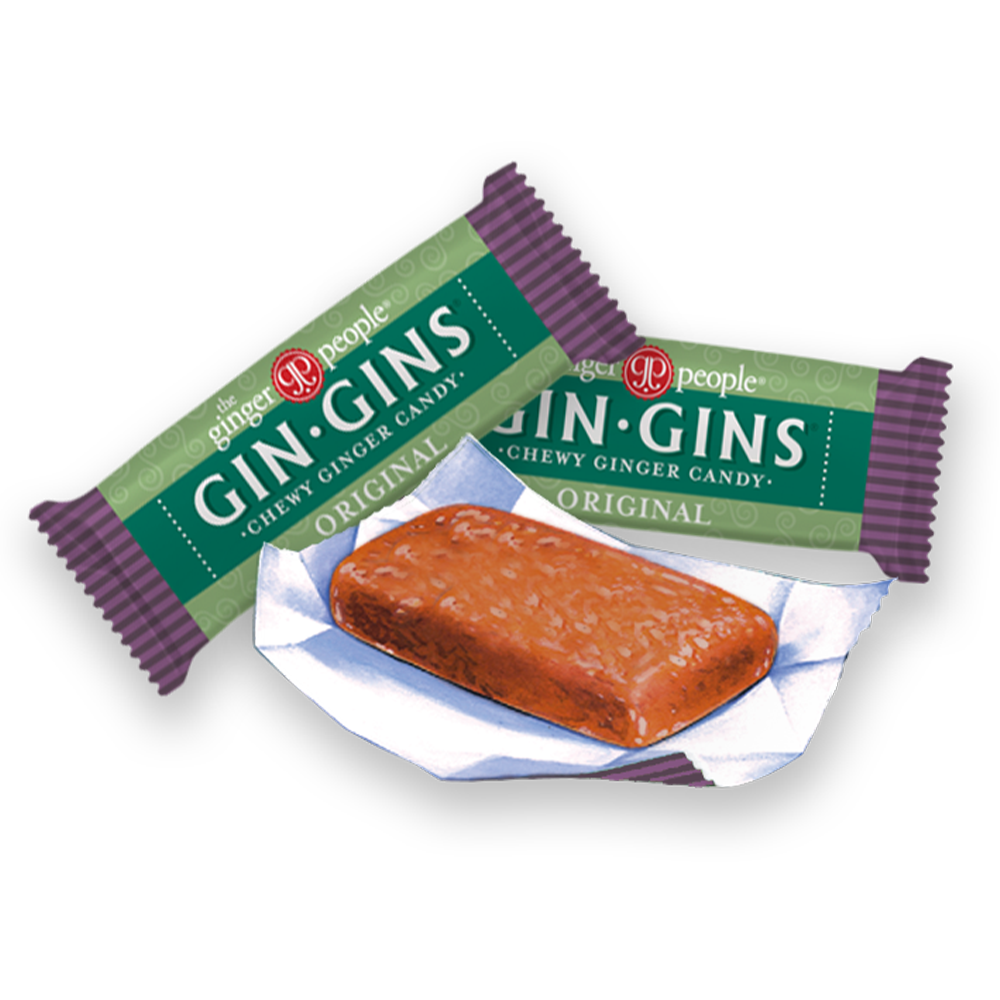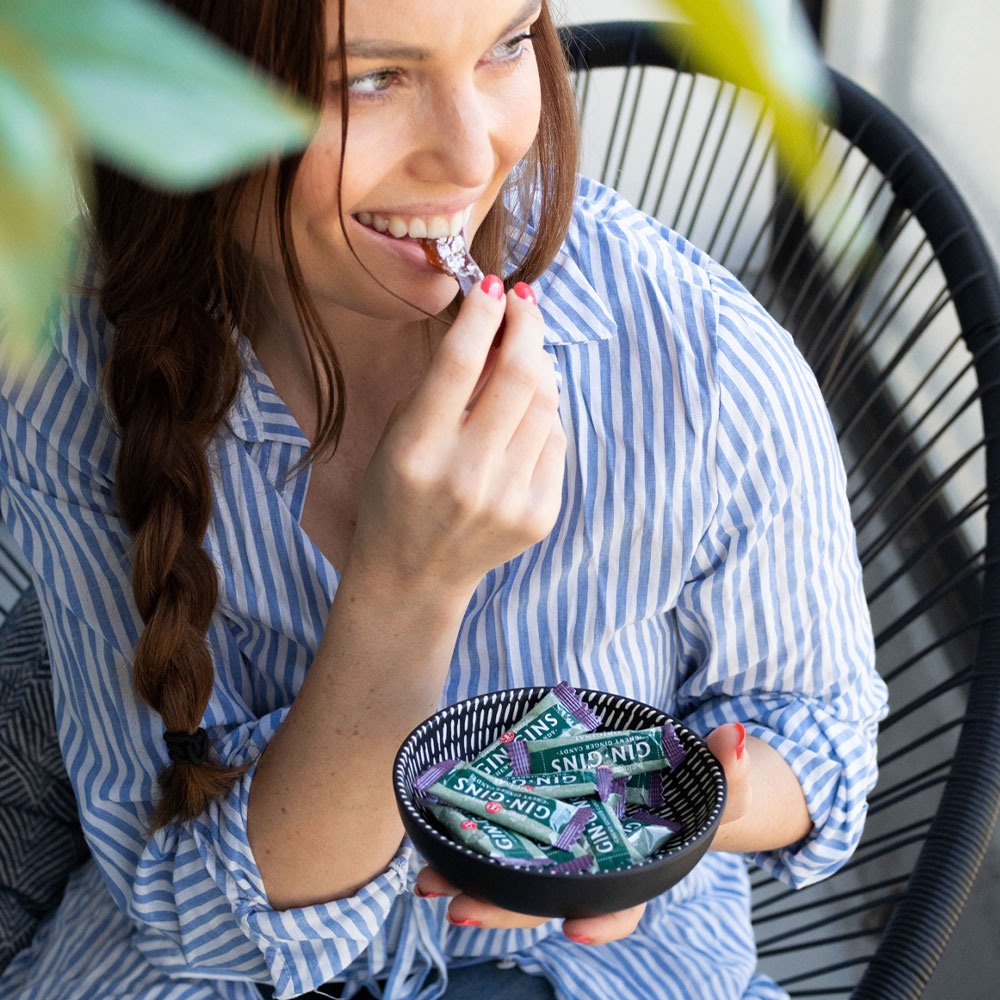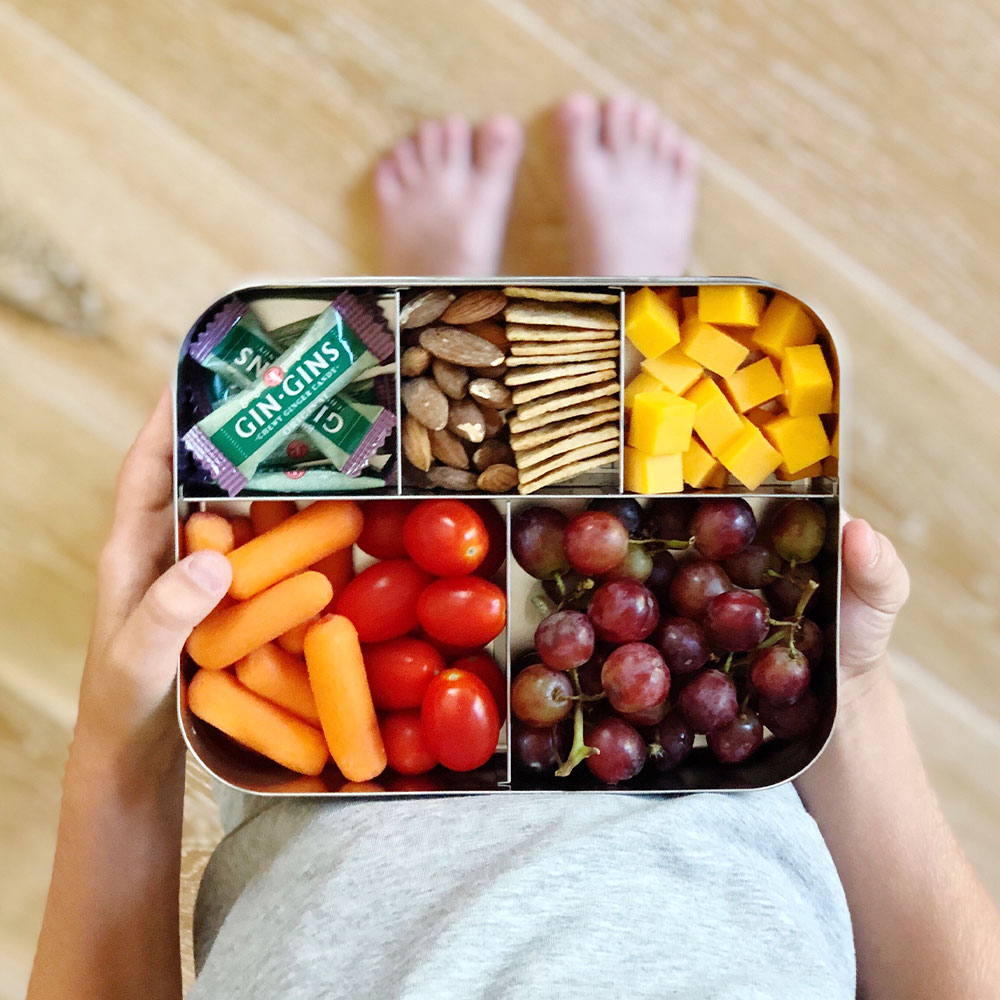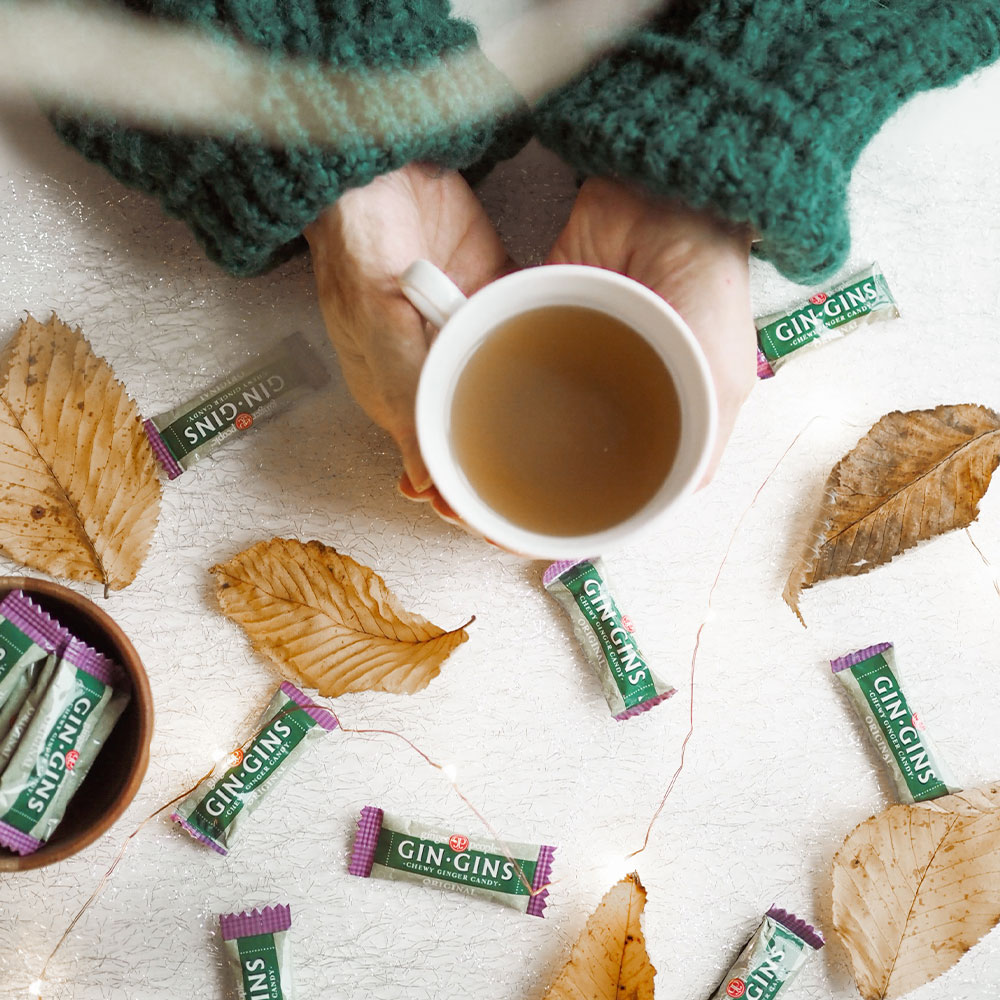 90502_GinGins_Original_500px
GinGins_Original_Group_web
GinGinsOriginalGingerChews_4_1000px
GinGinsOriginalGingerChews_1_1000px
GinGinsOriginalGingerChews_2_1000px
GinGinsOriginalGingerChews_3_1000px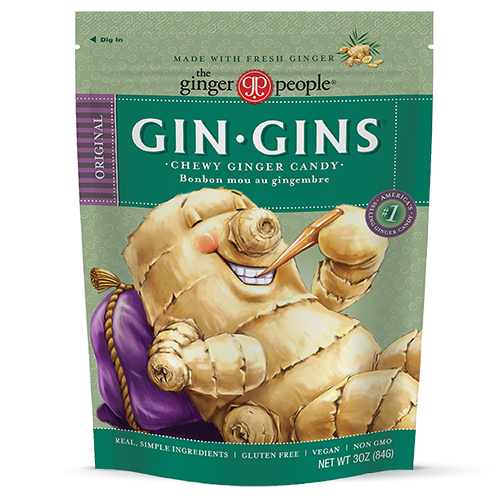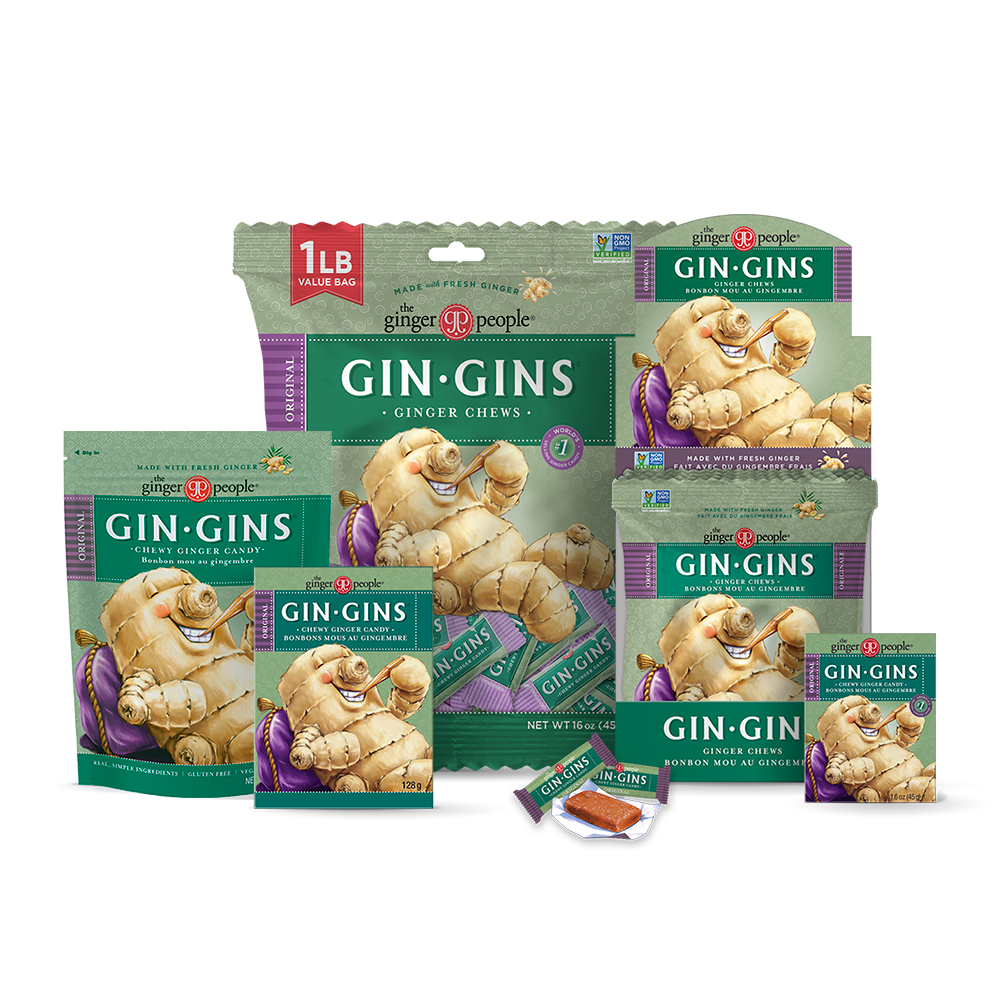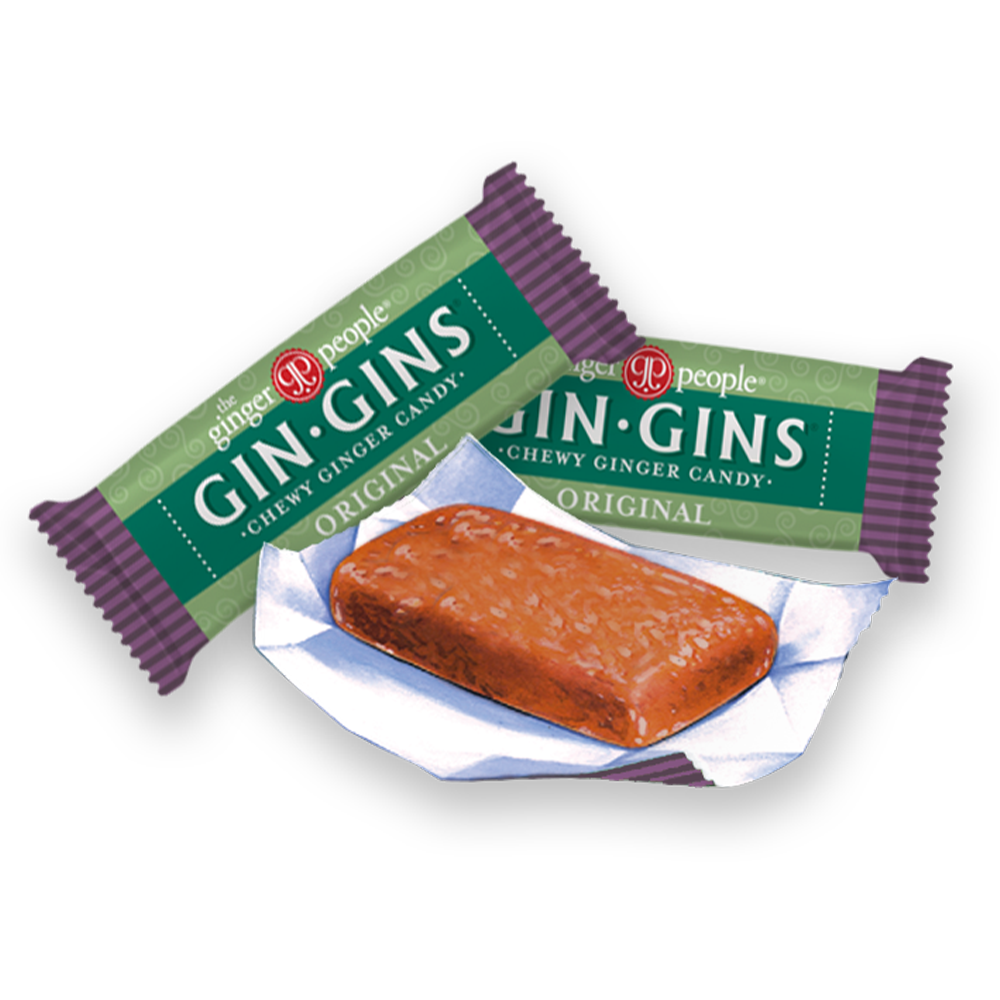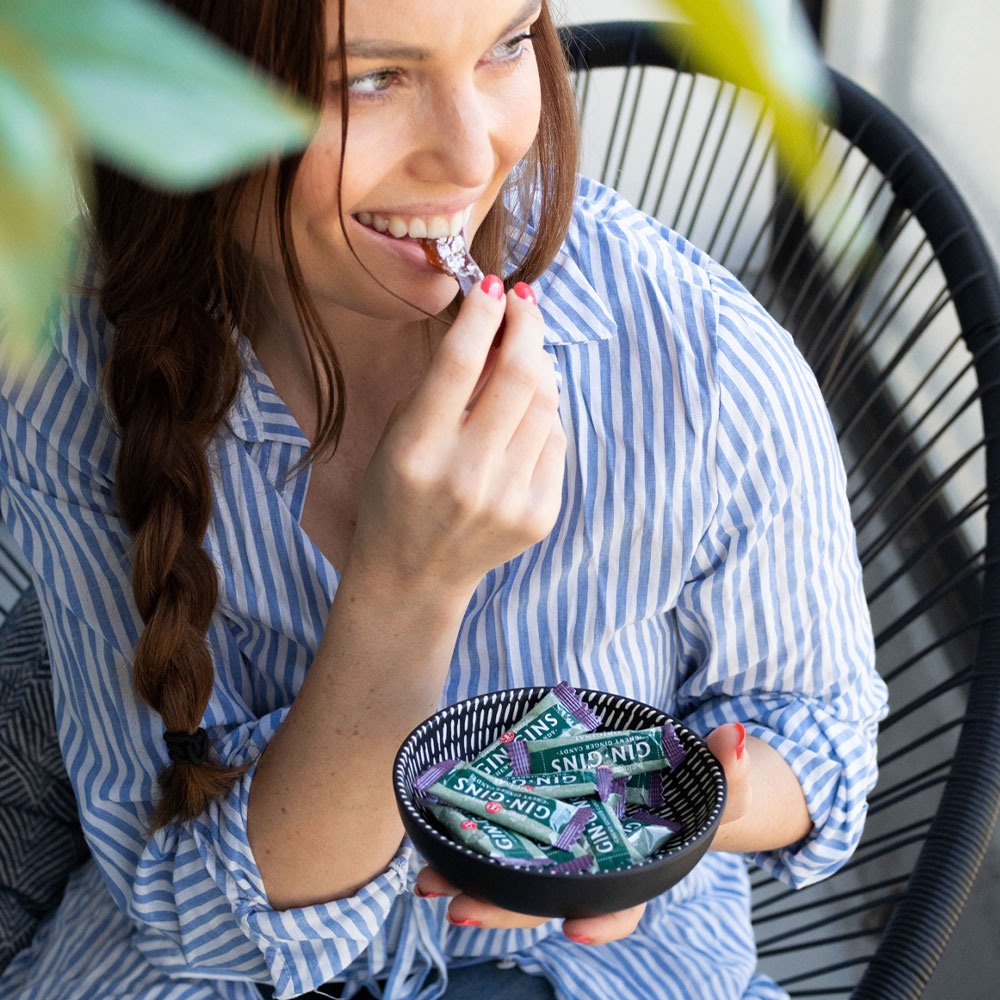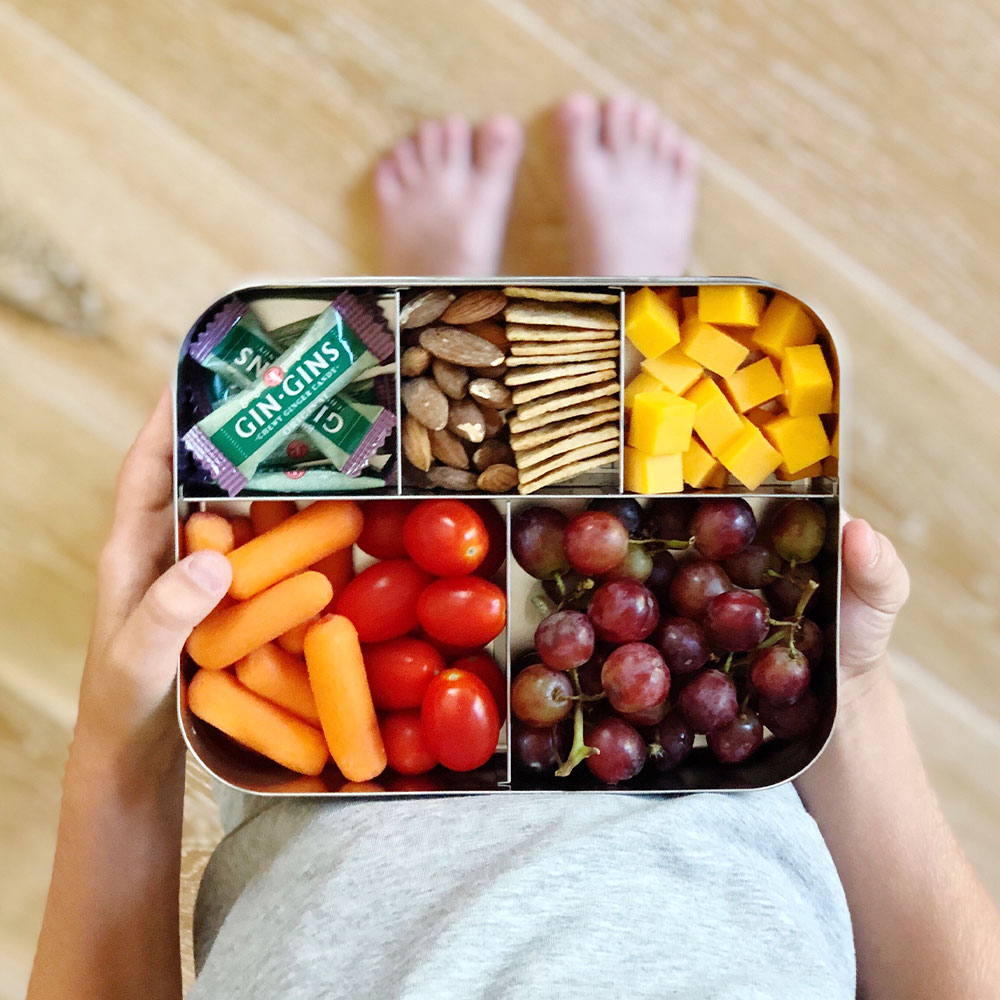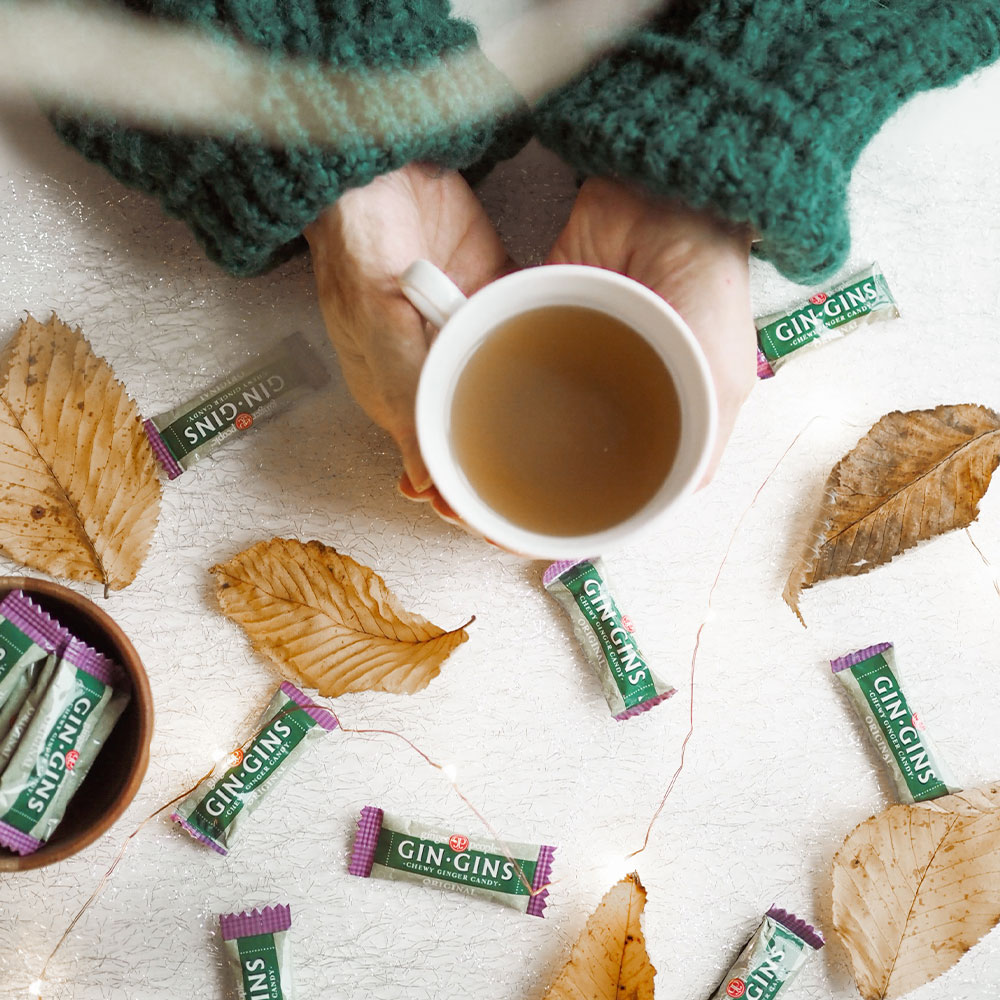 GIN GINS® ORIGINAL GINGER CHEWS
These tingly, chewy treats are an enjoyable alternative to anti-nausea medicine. Whether you're treating a belly ache, a bout of nausea or simply indulging yourself, always have these classic, yummy ginger candies in your stash. 
Made with 10% fresh ginger – more than any other brand
Great for travel and nausea-related conditions
Non-GMO | Gluten Free | Vegan
America's #1 selling ginger candy
Voted "Best Candy" by the Fiery Foods Association
Sweetened with cane sugar – nothing artificial
Sustainably farmed ginger – locally grown near the candy factory
Buy online or find it in the candy aisle at your local grocery or specialty store
PRODUCT DETAILS
INGREDIENTS: Cane sugar, glucose syrup, ginger (10%), tapioca starch, rice flour, soy lecithin, salt, citric acid. CONTAINS: SOY. 
Allergy Advice: Made in a facility that also processes peanuts.
Made in Indonesia
Available in: 1.6 oz travel pack   |   3 oz bag   |   4.5 oz box   |   1 lb bag   |   11 lb box
Store in a cool, dry place
NUTRITIONAL INFO

REVIEWS
I wanted to write the whole company a thank you letter! I might just be your biggest customer. I got sick about 2 years ago, and I found out about GIN GINS half a year into my sickness. They saved my life. When the medicine the doctors gave me stopped working, I was desperate. A friend recommended ginger for the nausea. I tried your product and have been eating it ever since. Sadly, I am still ill, but this product makes my life a little easier. I appreciate all your hard work to get these candies to people like me. It may feel insignificant to some, but it's a big deal for me. So far, I really enjoy the chewy ginger, double strength and the crystallized ginger pieces the most. I hope to try your extra strength GIN GINS soon. Thank you again. You literally helped save my life and make it a little better every day.
I love Gin-Gins! As a 2x cancer survivor, I deal with daily nausea and these candies have helped so much. It's a great natural alternative to an anti-nausea medication and, in my opinion, they work just as well. Plus, they taste lovely!
I have been in search of gluten-free food items as I have developed a stomach ulcer. I also cannot have dairy, white rice, tomato, spice, oils (although some olive oil is fine), citrus, tea (I miss my twice weekly chai tea), caffeine, processed foods, and a bunch of other food items. In addition, I have a chronic cough that seems to stump doctors. I found making ginger tea by cutting ginger root and boiling it in water, then drinking it, is very soothing.
Recently when shopping at a local nutritional store I spied your Gin-Gins chewy ginger candy and double strength hard ginger candy. I find they both are very tasty, and I think sucking on the candy helps when I am having a coughing fit. I now found that Wegmans carries more of your products than the local nutritional store and purchased your hard ginger candy and crystallized ginger (I only can eat a small piece as it is very strong). Last week I boiled water and dropped in one of your hard ginger candies… it was delicious and comforting.
I see on your website you have other products and recipes. I hope to try them as well, but for some I will need to wait until I am ulcer free. Thank you for producing quality items that are gluten-free and refreshing as well. I think I am turning into a ginger lover thanks to Gin-Gins!
I'm suffering of chronic nausea associated with stress and stomach reflux. I buy these in bulk since I use them once every 3-4 days 🙂 A wonderful alternative to Gravol. Taste good and easy to keep everywhere since it's individually wrapped!