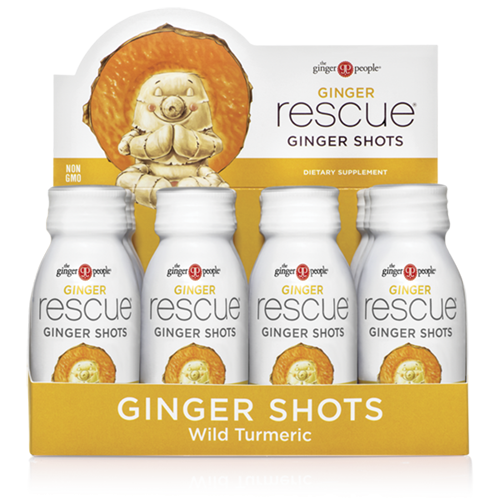 Our products
Ginger Rescue
®

Ginger Shots – Wild Turmeric

Daily health shot and caffeine-free boost of energy
Made with 30% ginger juice

Flavor Profile: Earthy and peppy with the combo of ginger juice, aromatic wild turmeric and black pepper. Balanced with a stir of creamy coconut, this smooth, snappy Wild Turmeric Ginger Shot provides an energetic boost with its delicious spicy-herbaceous flavor.


Product Details
This tasty, caffeine-free energy shot contains both wild turmeric and ginger. Black pepper boosts its goodness and coconut delivers a deliciously creamy finish.
Add it to your daily routine for general wellbeing, digestion, antioxidant properties and anti-inflammation. Reducing inflammation is one of the most documented healing powers of wild turmeric.
Caffeine free, yet energizing. How so? Our Ginger Rescue Ginger Shots have a natural energizing effect thanks to ginger's circulatory-enhancing and stimulating qualities. Ginger energizes and stimulates the circulatory system (unlike caffeine, which stimulates the adrenal glands to give you energy), resulting in a gentle and steady energizing effect without the 'crash' that comes with more conventional high-caffeine and sugar energy products.
Shelf stable – refrigeration not required.
Caffeine Free, Gluten Free, Vegan, Non-GMO Project Verified.
Made in USA
Read more about the health benefits of ginger
Ingredients
Ginger Juice (Zingiber officinale Rhizome)
Turmeric Juice (Curcuma aromatica Rhizome)
Other Ingredients: Apple juice from concentrate, water, organic cane sugar, lemon juice, coconut cream, black pepper.
Contains: Coconut
Nutritional information
| | Amount Per Serving - Serving Size 1 Bottle (60 ml) | % Daily Value* |
| --- | --- | --- |
| Calories | 50 | |
| Total Fat | 1g | 1% |
| Saturated Fat | 1g | 5% |
| Total Carbohydrate | 10g | 4% |
| Dietary Fiber | 2g | 7% |
| Total Sugars | 6g | |
| Includes Added Sugars | 6g | 12% |
| Protein | 1g | |
| Potassium | 135 mg | 3% |
| Ginger Juice (Zingiber officinale Rhizome) | 18ml | |
| Turmeric Juice (Curcuma aromatica Rhizome) | 5.4ml | |
| * Percent Daily Values are based on a 2,000 calorie diet. | | |
Non GMO
Vegan
No Artificial Ingredients
Gluten Free
Evan
Absolutely delicious!
ryan
Amazing taste! Transparency - I work here, but genuinely love it. The taste is great and it wakes you up.
Sustainable Farming
Our mission to create the tastiest and purest ginger products starts with finding the world's best ginger growing regions. Our ongoing search took us to the island of Viti Levu in beautiful Fiji, one of the most pristine ecosystems in the world, and our newest ginger source.
Our farms