GINGER SOOTHER® GINGERADE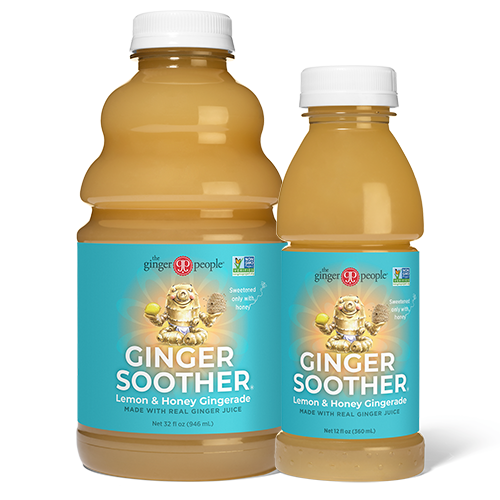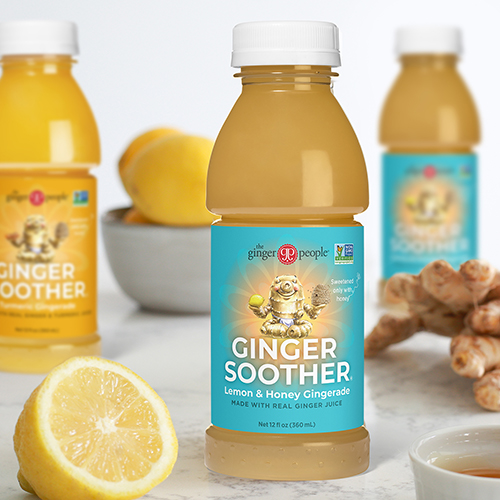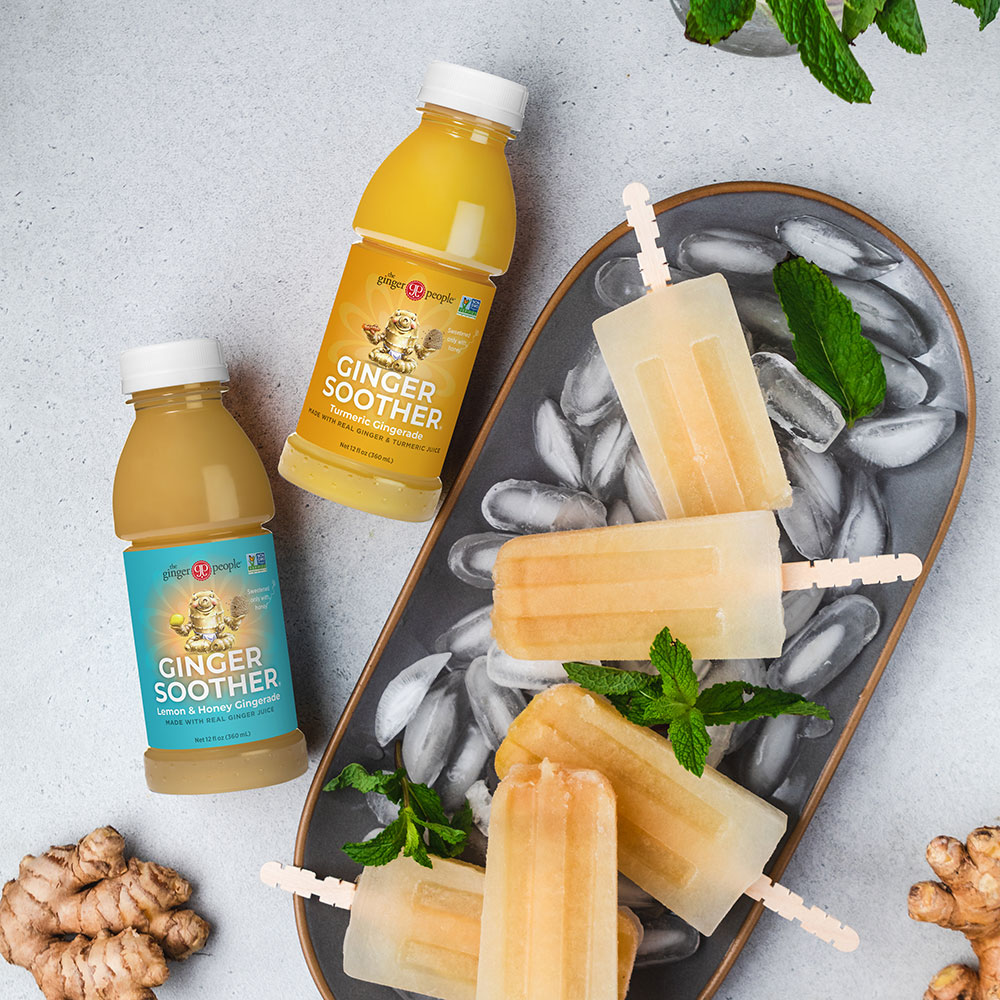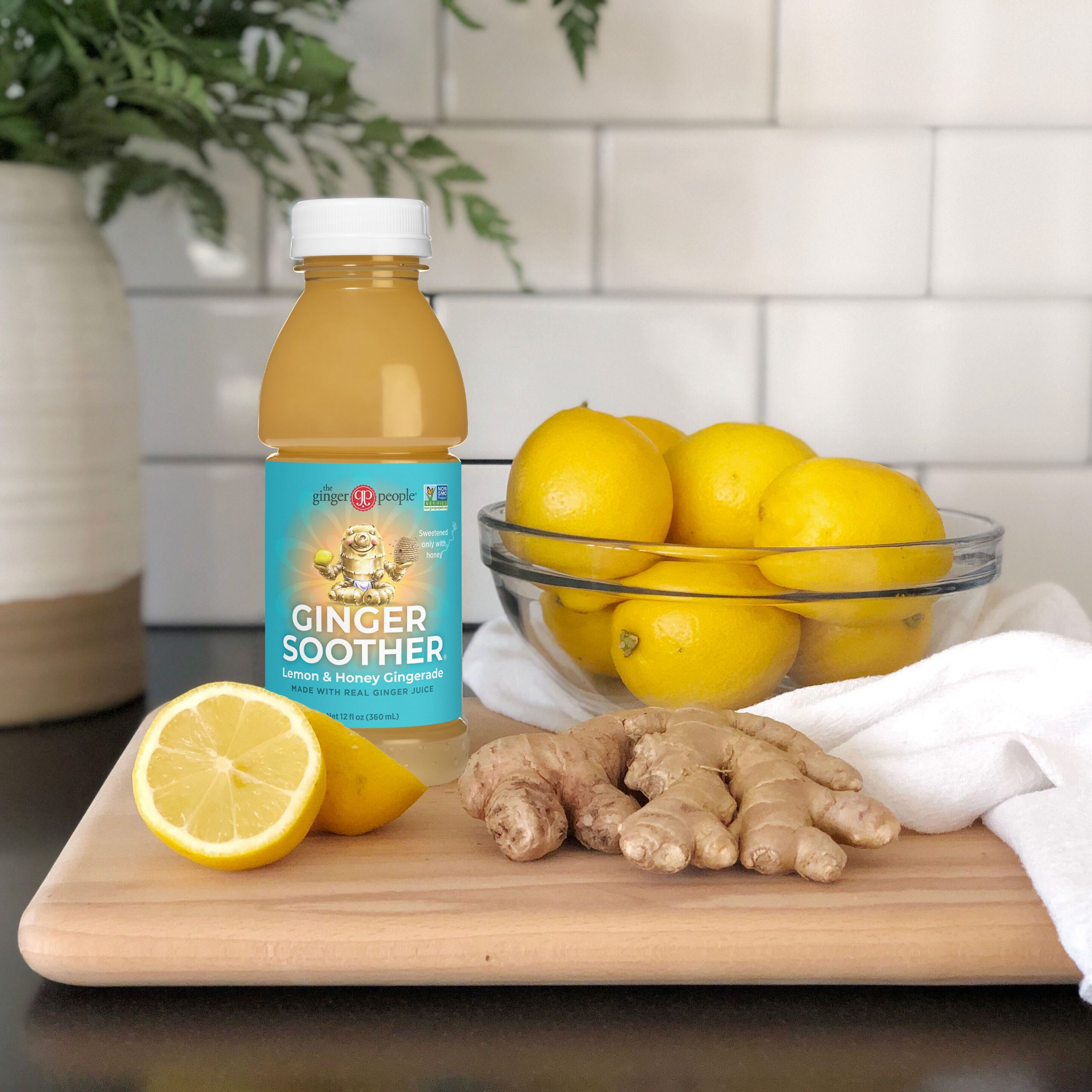 Soother_LemonHoney_Group_US_500px
Ginger Soother - 3 bottles_rebranded (1)
Ginger-Soother-Fresh-Lemon-Honey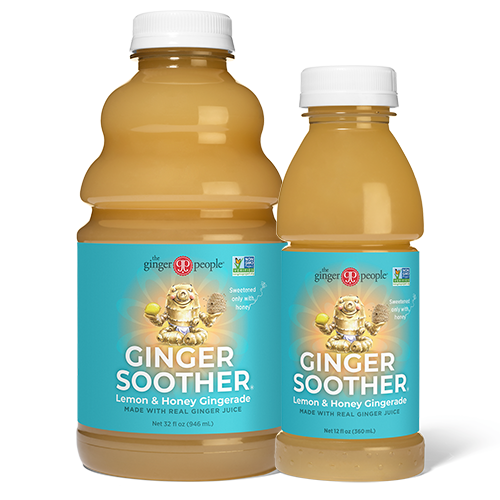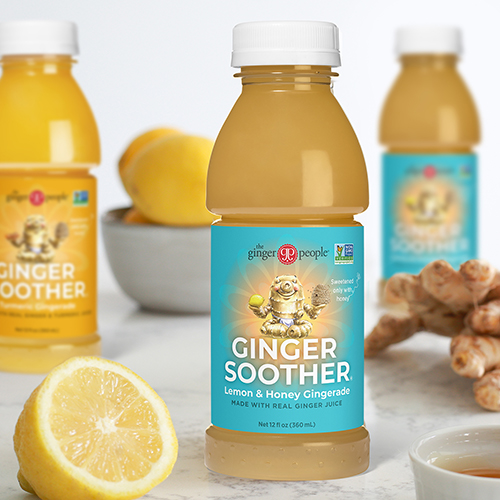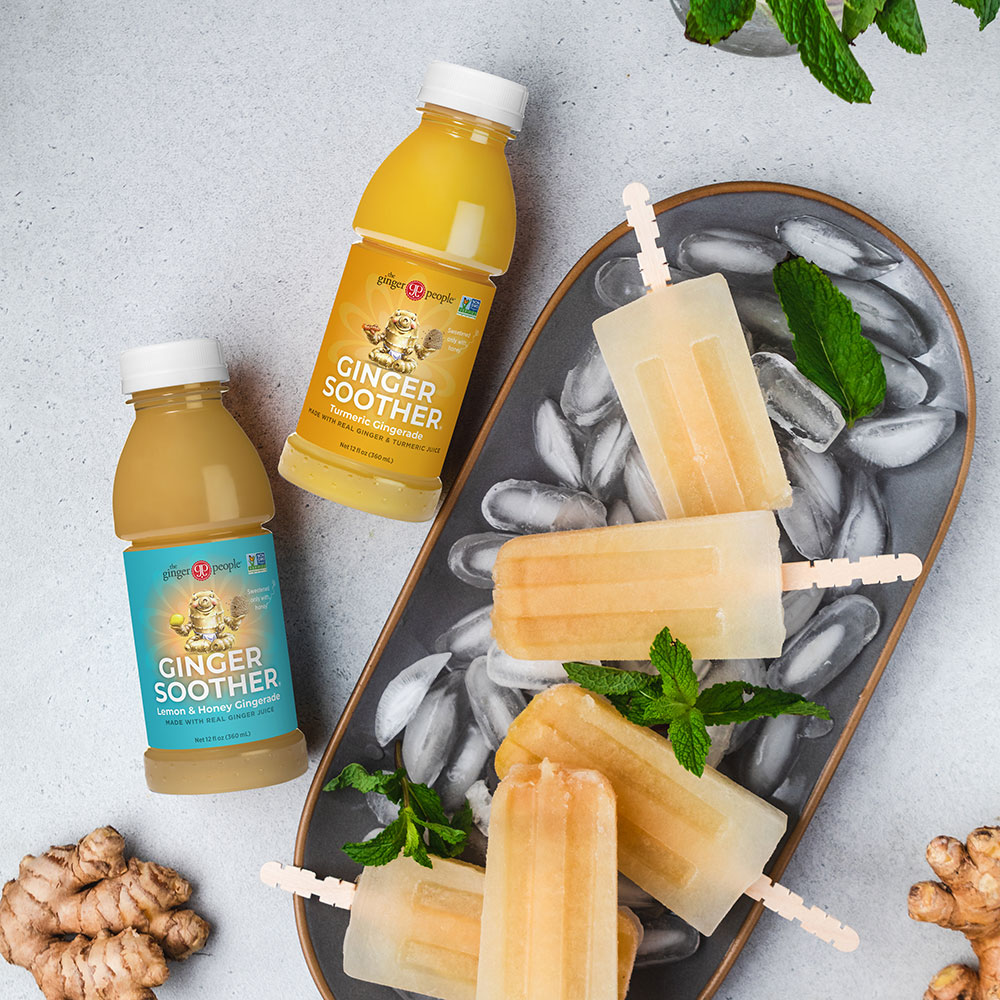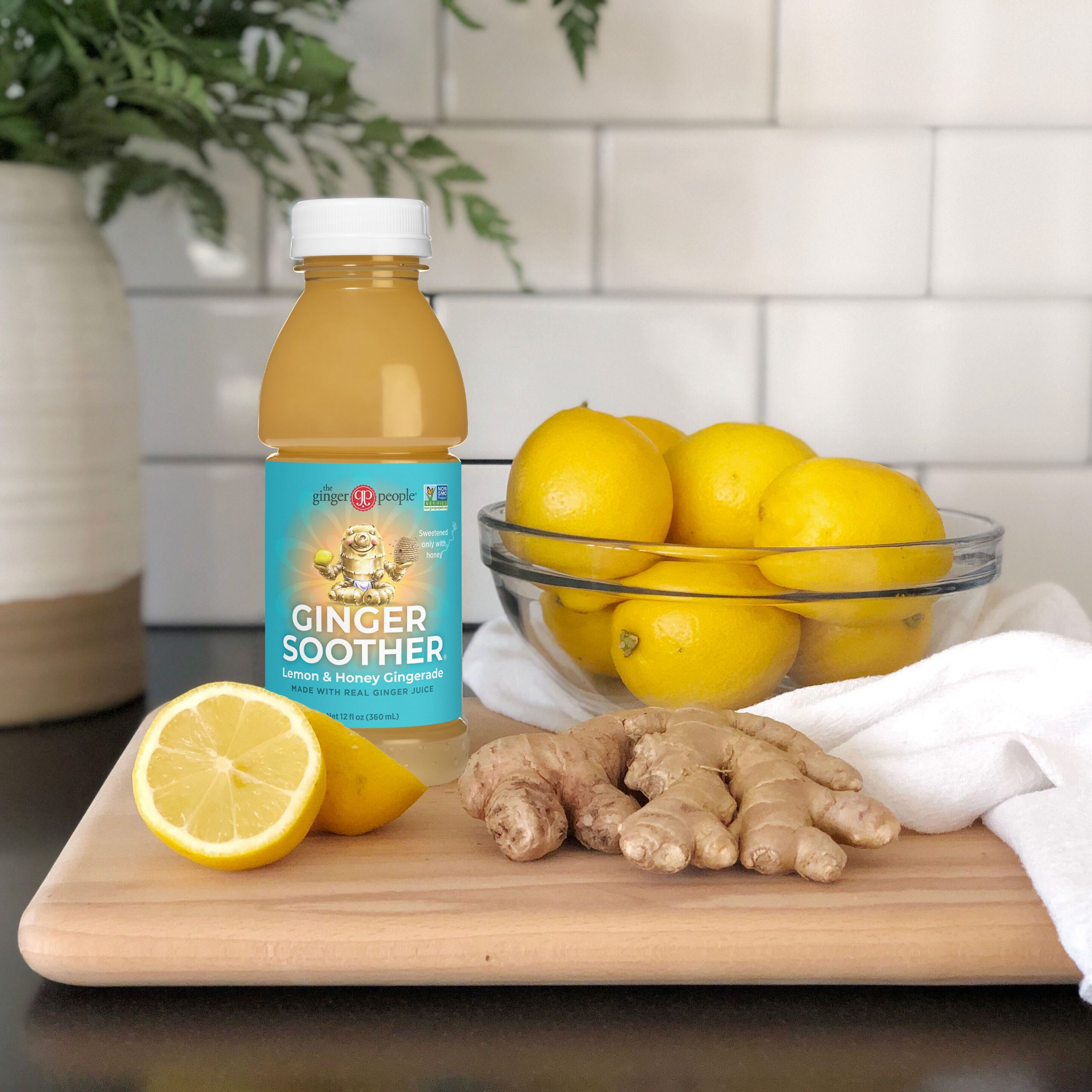 GINGER SOOTHER® LEMON & HONEY GINGERADE
This comforting and delicious tonic will help keep you in harmony all day. Ginger is said to soothe the throat and stomach, warm the internal organs, ease nausea and relieve ailments from colds to headaches.
Made with ginger juice
Sweetened only with honey
Enjoy chilled or warm
Uncarbonated
Recipient of the sofi™ Silver, "Outstanding Cold Beverage" 2007 & 2012
Non-GMO | Gluten Free
No artificial ingredients
Buy online or find it in the cold case or near uncarbonated drinks in the grocery aisle
PRODUCT DETAILS
INGREDIENTS: Filtered water, honey, ginger juice, lemon juice
Allergens: None
Made in USA
Available in: 12 fl oz bottle | 32 fl oz bottle
Store in a cool, dry place. Refrigeration after opening
NUTRITIONAL INFO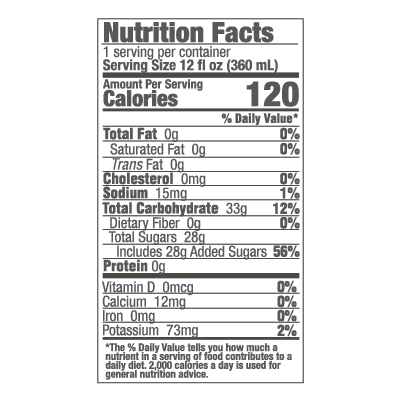 REVIEWS
I just wanted to thank you for making such a delicious healing product. I buy gingerade every time I go to the store and drinking it is such a lovely way to begin and end my long days. Yoga Knob's different personalities on each of your products never fail to make me smile. I was curious if you had any ongoing coupons since I am such a fan and buy your products so regularly. Again, thank you. As a plant scientist, I find ginger to be such a fascinating and beautifully giving rhizome.
Response from The Ginger People US
Hi Sally,
As a matter of fact, Azure Standard sells Ginger Soother by the case! Amazon also sells it by the case, but the price is much higher. You can also check with the store where you regularly purchase and ask to order a full case from them. Should be no trouble for most retailers. To find the retailer nearest you that carries it, check our "Where to Buy" tab on our website. -Mr. Knobs.
I just wanted to say your Ginger Soother Gingerade is amazing! I drink it in the morning because I wake up nauseated. It helps so much! I have an autoimmune disease and having something that can take away one of my symptoms is wonderful! Knowing this drink is healthy and gluten free is an added bonus. Thank you so much for creating this drink! I appreciate all of you!
What happened to your original Ginger Soother? I noticed ever since you updated the label design, it's not as strong. Did you guys cut back on the ginger when you started to profit more? Go back to the same formula.
Response from The Ginger People US
Hi Chris, Thank you for your question. No, we haven't changed our recipe. Our original formula contained 6% ginger juice – just the same as today. However, given ginger is a natural product, it can vary slightly in heat from crop to crop. We try our outmost to buy ginger that is consistent in age, heat and flavor for each of our products, but sometimes the elements soften ginger's intensity. If you want something super gingery, you may want to try our 99% ginger juice: https://gingerpeople.com/products/ginger-juice-non-gmo/
Thanks for hanging in there with us, Chris. Please email your shipping address to [email protected] We want to make it right and we surely don't want you falling off our fan bandwagon. – All the best in ginger, Mr. Knobs