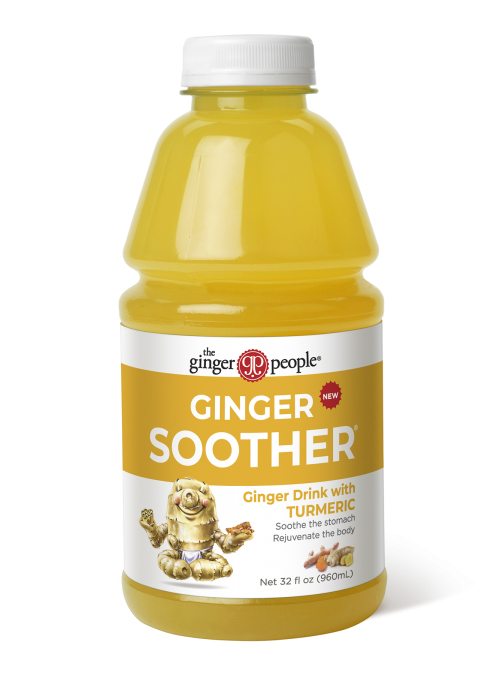 Our product
Ginger Soother® with Turmeric
A stomach-settling ginger elixir made with wild Fiji Red "Aromatica" turmeric, also a member of the ginger family, along with ginger juice, lemon juice, pure honey and black pepper (Click "more information" below for product availability.)
Nutritional information
| | Amount per serving (355ml) | % Daily Value* |
| --- | --- | --- |
| Calories | 120 | |
| Fat | 0g | 0% |
| Sodium | 10mg | 0% |
| Potassium | 109mg | 1% |
| Total Carbohydrate | 33g | 12% |
| Sugars | 30g | 60% |
| Protein | 0g | 0% |
| Calcium | 16mg | 2% |
| Vitamin C | | 9% |
| *Percent Daily Value are based on a 2,000 calorie diet. | | |
Product Details
Available Spring 2018. Please enter your email here and we'll keep you up to date about this product.
This all natural tonic will help keep you in harmony all day. Ginger is said to soothe the throat and stomach, warm the internal organs, and ease nausea and ailments from colds to headaches. And that's not even the best bit. Ginger is a powerful antioxidant with over 12 constituents said to be superior to vitamin E. And it helps neutralize free radicals, widely recognized as being a common cause of inflammation.
Made in USA.
Read more about the health benefits of ginger
Ingredients
Filtered water, honey, ginger juice, lemon juice, turmeric juice, and black pepper
No Artificial Ingredients
Fat Free
Gluten Free
Made With Fresh Ginger
Non GMO Project Verified
Sustainable Farming
Our mission to create the tastiest and purest ginger products starts with finding the world's best ginger growing regions. Our ongoing search took us to the island of Viti Levu in beautiful Fiji, one of the most pristine ecosystems in the world, and our newest ginger source.
Our farms