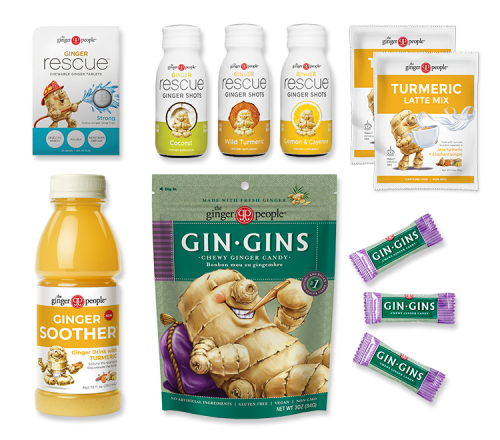 Our products
The Ultimate Ginger and Turmeric Sample Box
EIGHT OF OUR NEW AND MOST POPULAR ITEMS FOR ONLY $19.99 - *FREE SHIPPING

Be one of the first to receive our limited edition ginger and turmeric sample box. Click on the "Product Details" button below for more product info.
Product Details
Each Sample Box Contains:
NEW – Ginger Rescue® Ginger Shots: Three shots. One of each flavor Turmeric, Lemon & Cayenne, Coconut. Your daily health shot and caffeine-free energy boost.
NEW – Turmeric Latte Mix: Two sachets = two delicious lattes. This plant-based powdered mix is supercharged with ginger and Curcumin, the power behind turmeric.
NEW – Ginger Soother With Turmeric: One bottle. A stomach-settling ginger elixir made with wild Fiji Red "Aromatica" turmeric, also a member of the ginger family, along with ginger juice, lemon juice, honey and black pepper.
Gin Gins® Original Chewy Candy – One bag of our delicious original ginger chews. The #1 selling ginger candy in North America.
Ginger Rescue® Chewable Ginger Tablets: One pack holds 24 chewable and tasty tablets. Drug-free with greater ginger actives to help promote digestive health, relieve motion sickness and ease gas and indigestion.
*Free shipping applies to folks in the continental U.S. (sorry Hawaii and Alaska)
Read more about the health benefits of ginger
Sustainable Farming
Our mission to create the tastiest and purest ginger products starts with finding the world's best ginger growing regions. Our ongoing search took us to the island of Viti Levu in beautiful Fiji, one of the most pristine ecosystems in the world, and our newest ginger source.
Our farms