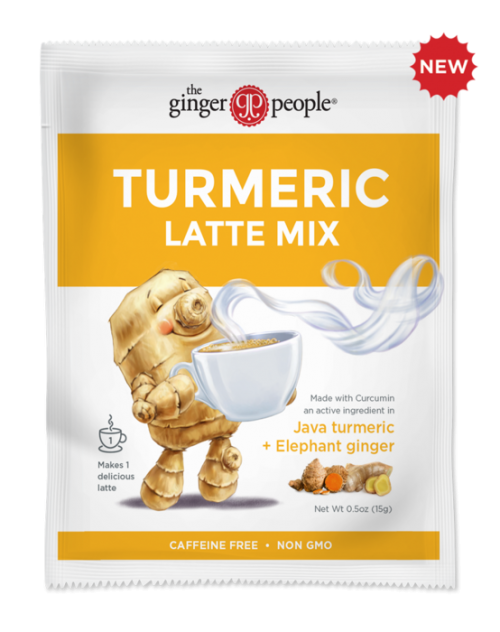 Our product
Turmeric Latte Mix
A delicious plant-based powdered mix supercharged with ginger and Curcumin, the power behind turmeric. Inspired by a traditional Indonesian remedy used in Jamu medicine, this nourishing warm drink is often synonymous with Golden Milk. Convenient and easy to whip up - enjoy daily.

(Click "More information" below for product availability.)
Nutritional information
| | Amount Per Serving - 1 packet (15g) | % Daily Value* |
| --- | --- | --- |
| Calories | 60 | |
| Total Fat | 1g | 1% |
| Sodium | 85mg | 4% |
| Total Carb. | 14g | 5% |
| Total sugars | 14g | |
| Includes 14g added sugars) | | 28% |
| Protein | 0g | |
| * Percent Daily Values are based on a 2,000 calorie diet. | | |
Product Details
Available Spring 2018. Please enter your email here and we'll pop you a note back as soon as it's available.
Our Turmeric Latte Mix contains: 756mg Java turmeric, 2.8mg Curcumin, 1000mg Elephant ginger per serving. Java turmeric (Curcuma Xanthorrhizol), is a coveted and rare varietal of the ginger family.
Also sweetened with log GI Arenga palm sugar, known for being rich in minerals and considered one of the world's healthiest sweeteners.*
The Ginger People® make sure to source Arenga that does not cause deforestation or damage to orangutan habitats. Turmeric Latte Mix is also caffeine free, Non GMO Project Verified, vegan, and gluten free.
Made in Indonesia.
*Arenga sugar has a low GI (Glycemic Index) between 35 and 40, compared to a banana which has a GI of 62 and glucose with a GI of 100. Low GI may also be better for people with diabetes.
Read more about the health benefits of ginger
Ingredients
Arenga palm sugar, Elephant ginger extract, Java turmeric extract
Vegan
Gluten Free
Non GMO Project Verified
Sustainable Farming
Our mission to create the tastiest and purest ginger products starts with finding the world's best ginger growing regions. Our ongoing search took us to the island of Viti Levu in beautiful Fiji, one of the most pristine ecosystems in the world, and our newest ginger source.
Our farms