PREP: 15 MIN | BAKE: 40 MIN | SERVES: 10-15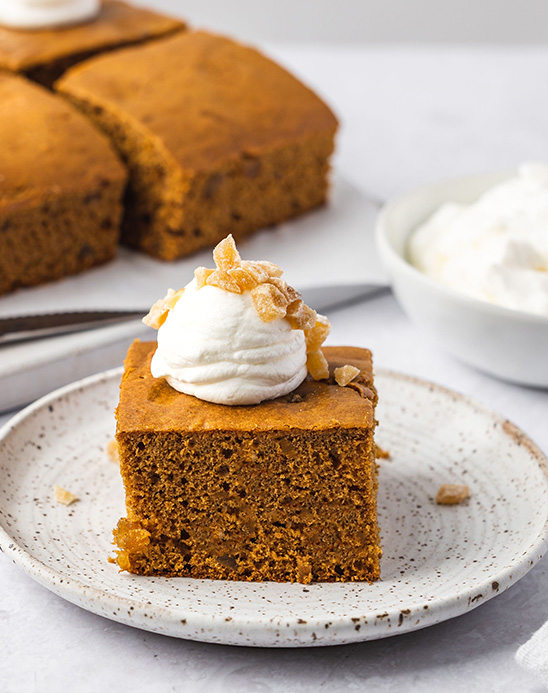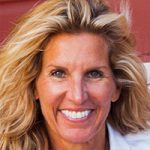 Recipe by House Chef, Abbie Leeson
Learning through travel, Abbie has eaten her way through nearly 60 countries. Australia, Finland, Morocco, Japan and France - a few of her culinary favorites. She's passionate about taking ginger into unexpected places, while still revisiting the classics like her beloved Ultimate Chewy Ginger Snaps. Favorite culinary book: Salt, Fat, Acid, Heat. Favorite moment with a fellow chef: Dinner with Julia Child, 1992. Actually, she was at the next table. We told the waiter, "We'll have what she's having."
Feeling patriotic? George Washington loved gingerbread cake, so his mom made an orangey version studded with raisins. Our take on the cake has chewy morsels of crystallized ginger, kicked it up with ginger juice and put it over the top with a dollop of whipped cream.
ingredients
3 cups flour, plus extra for dusting baking dish
2 tablespoons ground ginger
1½ teaspoon ground cinnamon
1 teaspoon baking soda
1 teaspoon ground nutmeg
1 teaspoon ground mace
1 cup The Ginger People® Crystallized Ginger Chips plus extra for garnishing
¾ cup buttermilk
1 tablespoon grated orange zest
¼ cup orange juice
1 stick (8 tablespoons) unsalted butter, softened, plus extra for greasing baking dish
½ cup packed dark brown sugar
1 cup Blackstrap molasses
3 eggs
(optional) whipped cream, for serving
directions
Preheat oven to 350°F. Butter and flour 9" x 13" baking dish.
Whisk flour, ginger, cinnamon, baking soda, nutmeg and mace in a bowl.
In a separate bowl, combine Crystallized Ginger Chips, buttermilk, orange zest, orange juice and Ginger Juice.
Using a hand mixer, beat butter and sugar in a bowl until fluffy.
Stir in molasses. Add eggs, one at time, beating well after each, until smooth. Add dry and wet ingredients alternately, beginning and ending with dry, beating until smooth.
Pour batter into dish. Bake until a toothpick inserted in center comes out clean, 40 minutes. Let cool before slicing. Serve with whipped cream and an extra sprinkle of Crystallized Ginger Chips.
There are no reviews yet. Be the first one to write one.