Prep: 5 min   |    Bakes: 10 min   |   Makes: 12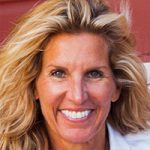 Recipe by House Chef, Abbie Leeson
Learning through travel, Abbie has eaten her way through nearly 60 countries. Australia, Finland, Morocco, Japan and France - a few of her culinary favorites. She's passionate about taking ginger into unexpected places, while still revisiting the classics like her beloved Ultimate Chewy Ginger Snaps. Favorite culinary book: Salt, Fat, Acid, Heat. Favorite moment with a fellow chef: Dinner with Julia Child, 1992. Actually, she was at the next table. We told the waiter, "We'll have what she's having."
recipe note
This drink is especially delightful when foamed with a milk frother or topped with frothed vanilla creamer. If you don't have a frother, consider adding one to your arsenal. They are compact, easy to use and instantly level up coffees, teas, cocktails and more. 
Easy Ginger Kiss Biscuits
In honor of "Kiss A Ginger Day," we're whipping up Easy Ginger Kisses – a quick and delicious cookie recipe from Australia. These soft, golden buttercream-filled cookies are preservative free and best eaten within a day or two. A hostess gift favorite.
ingredients
cookies
1 1/4 cups all-purpose flour
1/2 teaspoon baking soda
1/2 teaspoon baking powder
3 teaspoon ground ginger
½ teaspoon ground cinnamon
½ teaspoon salt
1/3 cup (75g) unsalted butter, softened
1/2 cup (80g) sugar
2 Tablespoon golden syrup
2 eggs
filling
¼ cup (60g) unsalted butter, softened
3/4 cup (80g) powdered sugar
1 teaspoon The Ginger People Ginger Syrup
¼ cup The Ginger People Crystallized Ginger, finely chopped
directions
cookies:
Pre-heat oven to 360˚F (180˚C)
Combine flour, baking soda, baking powder, ginger, cinnamon and salt in a medium bowl and set aside.
Using a mixer on high speed, cream sugar, butter and golden syrup until mixture lightens and softens.
Add eggs and continue beating for another minute or two.
In three portions, add dry mixture. Mix at low speed until mixture is well combined.
Chill for 15 minutes.
Scoop one tablespoon of mixture for each biscuit and lightly roll into a ball (alternatively, use a piping bag).
Place on a lined baking tray, leaving a 1-inch gap between each to allow cookies to expand.
Bake 8-10 minutes or until golden brown on top. Remove from oven and allow to cool on trays.
filling
Using a mixer at high speed, beat softened butter until lightened and fluffy. Slowly begin to add powdered sugar until completely incorporated, then do the same with the Ginger Syrup.
Fold in Crystallized Ginger.
Pick up a cooled cookie and flip upside down. Using a spoon or piping bag, place a tablespoon of filling into the middle then place another biscuit on top, slowly pushing down until the filling spreads to the edges. Repeat with remaining cookies.
Serve or gift the same day.
There are no reviews yet. Be the first one to write one.