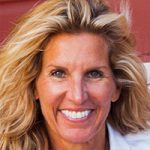 Recipe by House Chef, Abbie Leeson
Learning through travel, Abbie has eaten her way through nearly 60 countries. Australia, Finland, Morocco, Japan and France - a few of her culinary favorites. She's passionate about taking ginger into unexpected places, while still revisiting the classics like her beloved Ultimate Chewy Ginger Snaps. Favorite culinary book: Salt, Fat, Acid, Heat. Favorite moment with a fellow chef: Dinner with Julia Child, 1992. Actually, she was at the next table. We told the waiter, "We'll have what she's having."
Fresh Vegetable Spring Rolls with Ginger Peanut Sauce
To speed things up, prep your vegetables early and simply assemble them right before serving. Or you can wrap them ahead of time and chilled up to 2 hours. Cover with a lightly damp paper towel to keep them from drying out. For a heartier dish, add tofu or chicken.
ingredients
Sauce
1 tablespoon freshly squeezed lime juice

1 teaspoon brown sugar

1 teaspoon hot sauce, more to taste
Wraps
8 to 10 (10-inch) rice paper wrappers

5 green leaf lettuce leaves, torn into large pieces

1 cup fresh basil leaves

3/4 cup fresh mint leaves

3/4 cup chopped fresh cilantro leaves

1 cup matchstick carrots

1 cup shredded purple cabbage

1 red bell pepper, thinly sliced

1/2 English cucumber, seeded and cut into long matchsticks

1 avocado, halved, peeled, seeded and thinly sliced
directions
Whisk Ginger Peanut Sauce with lime juice, brown sugar and hot sauce. Whisk in 2-3 tablespoons water until desired consistency is reached; set aside
Working one at a time, wet rice paper for 10-15 seconds and transfer to a work surface. Place lettuce, basil, mint and cilantro in the center of each wrapper; top with Sushi Ginger, carrots, cabbage, bell pepper, cucumber and avocado; season with salt and pepper.
Bring the bottom edge of the wrap tightly over the filling and then folding in the sides, rolling from bottom to top until the top of the sheet is reached, being careful not to tear the rice paper; cover with damp paper towels. Repeat with remaining wrappers and filling. Slice to desired thickness.
Serve immediately with Ginger Peanut Sauce.
There are no reviews yet. Be the first one to write one.