PREP: 5 MIN  |  COOK: 10 MIN  |  MAKES: 3/4 CUP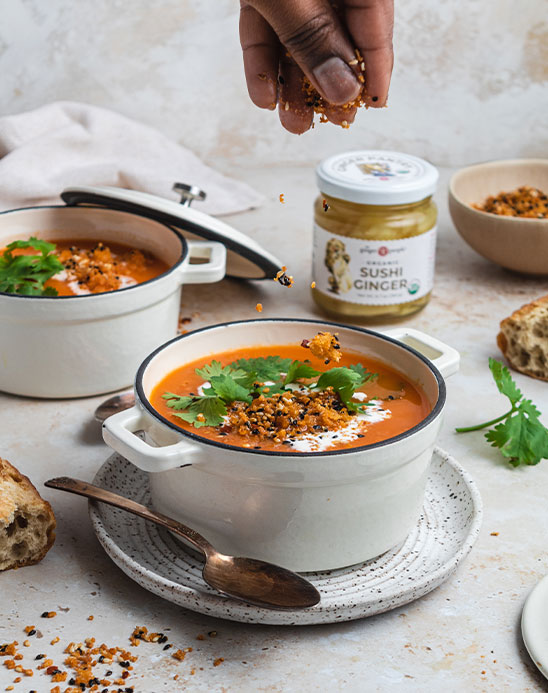 Recipe by House Chef, Abbie Leeson
Learning through travel, Abbie has eaten her way through nearly 60 countries. Australia, Finland, Morocco, Japan and France – a few of her culinary favorites. She's passionate about taking ginger into unexpected places, while still revisiting the classics like her beloved Ultimate Chewy Ginger Snaps. Favorite culinary book: Salt, Fat, Acid, Heat. Favorite moment with a fellow chef: Dinner with Julia Child, 1992. Actually, she was at the next table. We told the waiter, "We'll have what she's having."
Ginger Crumbs with Chili Oil
You'll want to sprinkle these crunchy ginger crumbs on everything: soup, eggs, rice and grains. Feel free to double the recipe; they'll keep in an airtight container at room temperature for up to a week.
ingredients
6 tablespoons olive oil, divided
1-1/2 teaspoons red pepper (chili) flakes
1/2 teaspoon sweet paprika
3 tablespoons (or more to taste) The Ginger People® Sushi Ginger, finely chopped and thoroughly drained
1 shallot, peeled and finely chopped
1/4 cup panko bread crumbs
1 tablespoon each white and black sesame seeds
Kosher salt
directions
Add 4 tablespoons oil to a large skillet and heat gently over medium. Place red pepper (chili) flakes and paprika into a small heatproof bowl. Once oil is quite hot but not smoking, pour it over the spices. Set aside to infuse as you make the ginger crumbs.
Place chopped Sushi Ginger in paper towel and ring to remove excess moisture.
Add the remaining 2 tablespoons oil to the same skillet and heat over medium-high. Once hot, turn the heat back down to medium and add Sushi Ginger and shallot. Cook for 5-10 minutes, stirring often, until nicely browned and starting to crisp. Add panko, sesame seeds and 1/4 teaspoon salt, and cook for 4 to 6 minutes more, stirring often, until nicely toasted. Transfer to a bowl and set aside.
Serve ginger crumbs atop soup, noodles, eggs, rice or grains. Drizzle chili oil over crumbs.
There are no reviews yet. Be the first one to write one.