PREP: 5 MIN  |  SERVES: 3/4 CUP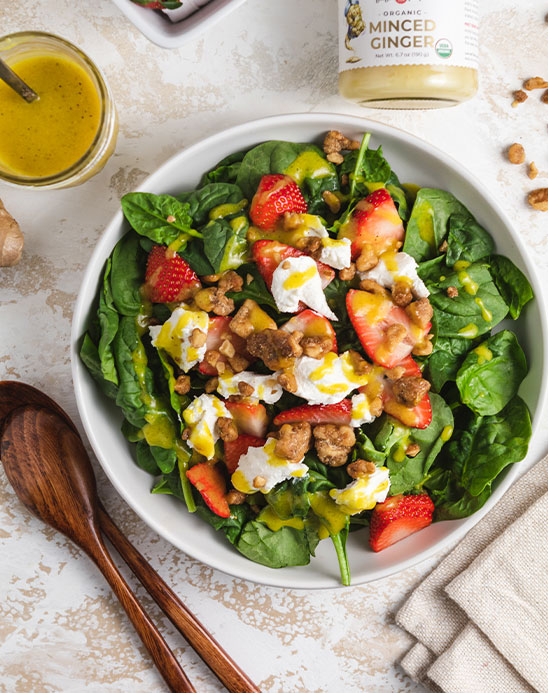 Recipe by House Chef, Abbie Leeson
Learning through travel, Abbie has eaten her way through nearly 60 countries. Australia, Finland, Morocco, Japan and France – a few of her culinary favorites. She's passionate about taking ginger into unexpected places, while still revisiting the classics like her beloved Ultimate Chewy Ginger Snaps. Favorite culinary book: Salt, Fat, Acid, Heat. Favorite moment with a fellow chef: Dinner with Julia Child, 1992. Actually, she was at the next table. We told the waiter, "We'll have what she's having."
Ginger Honey Mustard Dressing
This sweet and tangy salad dressing is a great addition to a healthy diet – warming and bright, but not too fiery. It'll keep for a week in the fridge. Serve over a salad of spinach, strawberries, goat cheese and walnuts.
ingredients
1/2 cup extra-virgin olive oil
2 tablespoons apple cider vinegar
2 tablespoons Dijon mustard
1 tablespoon maple syrup or honey
2 teaspoons The Ginger People® Organic Grated Ginger
1/2 teaspoon fine sea salt
1/4 teaspoon freshly ground black pepper
directions
Whisk together oil, apple cider vinegar, Dijon mustard, maple syrup or honey, Grated Ginger, salt and black pepper in a small jar or bowl until fully blended. If your mustard is cold, it may need a few minutes to warm up before it fully incorporates.
Salad dressing will keep well in the refrigerator for up to 10 days. Olive oil can solidify slightly when cold; if that happens, simply let it warm to room temperature before serving.
There are no reviews yet. Be the first one to write one.