PREP: 5 MIN  |  COOK/STEEP: 30-60 MIN  |  MAKES: 1 Drink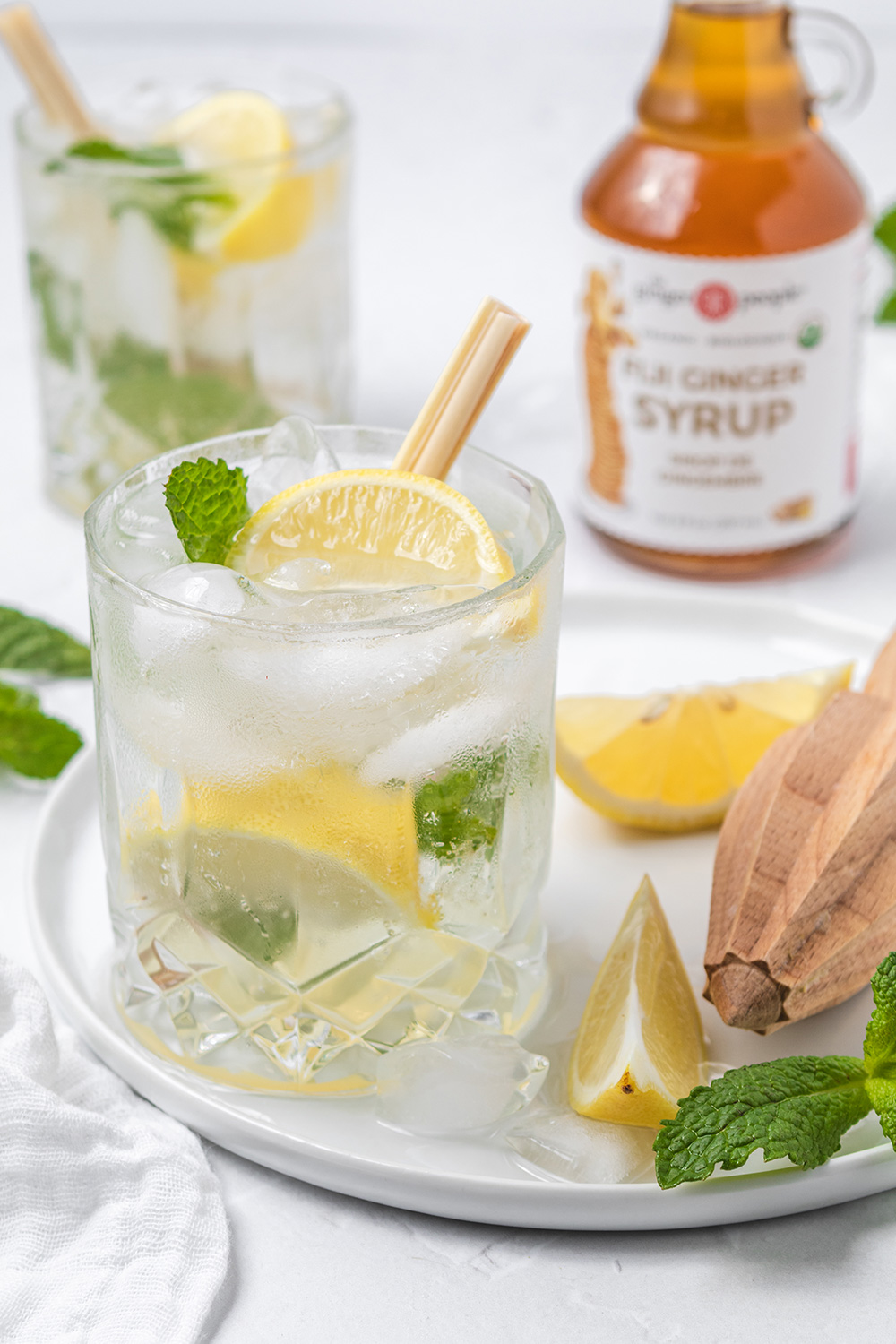 Recipe by House Chef, Abbie Leeson
Learning through travel, Abbie has eaten her way through nearly 60 countries. Australia, Finland, Morocco, Japan and France – a few of her culinary favorites. She's passionate about taking ginger into unexpected places, while still revisiting the classics like her beloved Ultimate Chewy Ginger Snaps. Favorite culinary book: Salt, Fat, Acid, Heat. Favorite moment with a fellow chef: Dinner with Julia Child, 1992. Actually, she was at the next table. We told the waiter, "We'll have what she's having."
Ginger Lemongrass Mint Spritzer
A deliciously clean and lightly herbaceous spritzer. Made with our delicately spiced Ginger Syrup and fresh lemongrass, this sparkling drink is super refreshing and healthy, too!
ingredients
1 cup (240ml) water
2 plump stalks of fresh lemongrass, cut into 2-inch lengths and smashed, plus stalks for garnish
10 fresh mint leaves
4 lemon slices plus more for garnish
Sparkling water
ice cubes
directions
Add water, Ginger Syrup, lemongrass, mint and lemon slices to a saucepan. Bring to a soft boil, reduce heat to medium, let simmer for 5 minutes. Remove from heat; cover and steep for 30-60 minutes or until cool.
Strain mixture through a mesh sieve into a container.
To make spritzer: Place ice cubes in a glass; add 1-2 tablespoons syrup. Top with sparkling water and a few lemon wedges. Add additional Ginger Syrup to taste.
Store Syrup in refrigerator.
There are no reviews yet. Be the first one to write one.