PREP: 10 MIN  |  SERVES: 4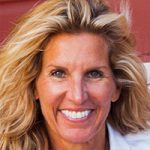 Recipe by House Chef, Abbie Leeson
Learning through travel, Abbie has eaten her way through nearly 60 countries. Australia, Finland, Morocco, Japan and France - a few of her culinary favorites. She's passionate about taking ginger into unexpected places, while still revisiting the classics like her beloved Ultimate Chewy Ginger Snaps. Favorite culinary book: Salt, Fat, Acid, Heat. Favorite moment with a fellow chef: Dinner with Julia Child, 1992. Actually, she was at the next table. We told the waiter, "We'll have what she's having."
Just a little lime and ginger help macerate the fresh fruits so they can release their juices. The result is super sweet without adding any sugar. Don't be surprised when your guests ask, "Is there sugar in this?"
ingredients
1 cup ripe mango, coarse chopped
1 cup strawberries, quartered
1/2 cup blueberries
1 teaspoon grated lime rind
1 tablespoon fresh lime juice
1 teaspoon The Ginger People® Grated Ginger
Optional fruits: grapes, diced nectarines and blackberries
directions
Combine all ingredients in a bowl; let stand 5 minutes before serving.
There are no reviews yet. Be the first one to write one.