PREP: 10 MIN  | COOK: 50 MIN |  SERVES: 2-4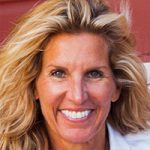 Recipe by House Chef, Abbie Leeson
Learning through travel, Abbie has eaten her way through nearly 60 countries. Australia, Finland, Morocco, Japan and France - a few of her culinary favorites. She's passionate about taking ginger into unexpected places, while still revisiting the classics like her beloved Ultimate Chewy Ginger Snaps. Favorite culinary book: Salt, Fat, Acid, Heat. Favorite moment with a fellow chef: Dinner with Julia Child, 1992. Actually, she was at the next table. We told the waiter, "We'll have what she's having."
Have your health and your Ginger Orange Chicken, too! This easy-to-make, one-pan orange-ginger chicken recipe really is the best of both worlds; you get all the flavor and nutrition of oranges and ginger without the added cholesterol of a traditional fry.
ingredients
¼ cup orange marmalade
2 teaspoons apple cider vinegar
2 teaspoons chopped fresh thyme or 1 teaspoon dried thyme
¼ teaspoon each, salt and pepper
1 large orange, thinly sliced
8-10 garlic cloves, peeled
2-3 sprigs fresh rosemary
1-2 sprigs fresh thyme
2 large (approximately 1-½ pounds) bone-in chicken breasts
2 tablespoons extra virgin olive oil
Salt and pepper
directions
Preheat oven to 375℉
To make glaze, whisk together orange marmalade, Minced Ginger, vinegar, Ginger Syrup, thyme, salt and pepper in a small bowl and set aside.
Arrange orange slices in a single layer in the bottom of a 10-inch cast iron skillet (alternatively you can use an oven-safe baking or casserole dish if you don't have a skillet). Scatter garlic cloves, thyme, and rosemary sprigs over top.
Rub chicken breasts all over with olive oil, season generously on both sides with salt and pepper. Arrange in skillet, skin side up, so the breasts aren't touching each other or the edges of the skillet.
Bake for 30 minutes or until chicken is beginning to brown. Generously brush tops with about half of marmalade mixture (use a clean utensil to spoon out half the marmalade into a separate dish, you don't want to contaminate the glaze with under-cooked chicken).
Return to oven and bake for another 10 to 20 minutes or until skin is browned and internal temperature in the thickest part of the breast registers 165℉. Remove from oven and brush with remaining orange-ginger marmalade glaze.
There are no reviews yet. Be the first one to write one.