PREP: 10 MIN  |  MARINATE: 2 HRS |  COOK: 6-8 MIN  |  SERVES: 4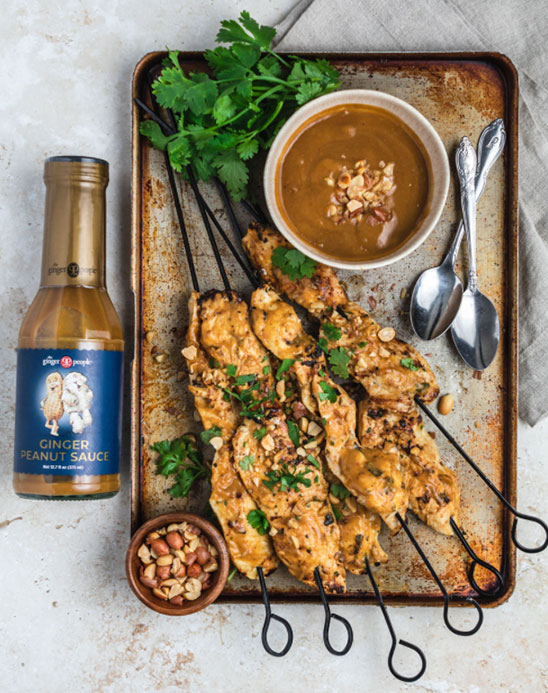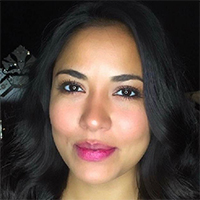 Recipe by Marla Noriega

Trained at the famous Gato Dumas school in Colombia, Marla Noriega is a kitchen lover at heart and professional chef by trade. Marla believes to eat well is to live well. A healthy body pairs with a healthy mind. She likes working with quick and easy recipes. Cooking is a form of meditation for Marla. Immerse yourself in your cooking to taste something truly wonderful.
Ginger Peanut Chicken Satay
Our version of an Indonesian classic, this super quick, gingery-scented chicken satay is served with our luxurious Ginger Peanut Sauce. Fish sauce adds the magic umami to send it over the top.
ingredients
2 tablespoons soy sauce
2 tablespoons lime juice
2 tablespoons The Ginger People® Minced Ginger
1 tablespoon honey
1 tablespoon sriracha sauce
2 cloves of garlic, minced
1/2 tablespoon fish sauce (or additional soy sauce)
4 boneless, skinless chicken breasts, 4-6 oz each
1 cup The Ginger People Peanut Sauce
1/4 cup cilantro leaves, garnish
Dry roasted, unsalted peanuts, garnish
Wooden or metal skewers
directions
In a large bowl, make marinade by combining soy sauce, lime juice, Minced Ginger, honey, siracha sauce, garlic and fish sauce.
 Add chicken to marinade. Cover, place in the refrigerator and marinate for 2-24 hours.
Remove chicken from refrigerator and skewer.
Heat grill or pan on medium high. Add 2 teaspoons oil. Grill chicken until fully cooked, about 3-4 minutes per side. Remove from pan, place on plate and let rest 2-3 minutes.
In the meantime, warm Ginger Peanut Sauce in a small saucepan over medium low heat.
Serve chicken on or off skewers. Garnish with chopped cilantro and peanuts. Serve with Ginger Peanut Sauce.
There are no reviews yet. Be the first one to write one.