PREP: 20 MIN |  COOKS: 40 MIN  |  SERVES: 6-8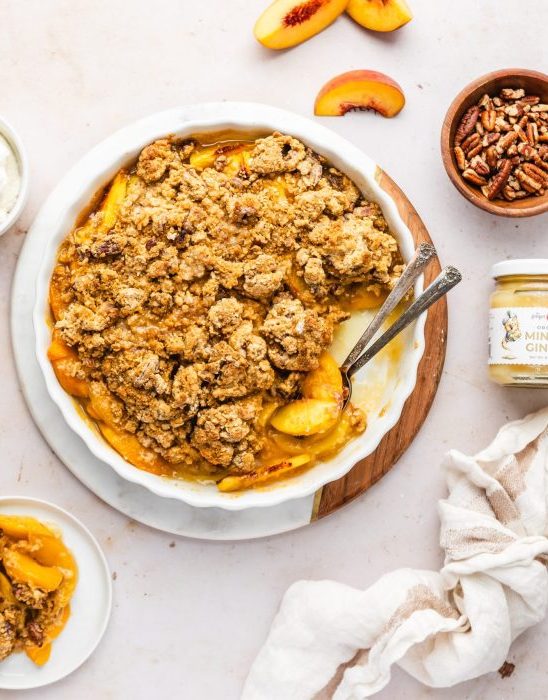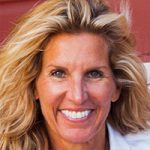 Recipe by House Chef, Abbie Leeson
Learning through travel, Abbie has eaten her way through nearly 60 countries. Australia, Finland, Morocco, Japan and France - a few of her culinary favorites. She's passionate about taking ginger into unexpected places, while still revisiting the classics like her beloved Ultimate Chewy Ginger Snaps. Favorite culinary book: Salt, Fat, Acid, Heat. Favorite moment with a fellow chef: Dinner with Julia Child, 1992. Actually, she was at the next table. We told the waiter, "We'll have what she's having."
Ginger Pecan Peach Cobbler
One bite of this Southern-inspired desert and you'll be transported back to carefree childhood memories of over-ripe peaches exploding with flavor, their syrupy juices dripping down your chin. Top it with a scoop of ice cream and bask in the nostalgia of the final days of sweet, sweet, summer.
ingredients
Filling:
Topping:
1-1/2 cups all-purpose white flour, or gluten-free replacement
1/2 cup firmly packed brown sugar
1/2 cup pecans, roughly chopped
1 teaspoon baking powder
4 cup cold unsalted butter or butter alternative, cut into cubes
1/4 cup milk of choice
Pinch of salt
Cane or turbinado sugar, optional
Vanilla ice cream or whipped cream for serving, optional
The Ginger People® Crystallized Ginger Chips or The Ginger People® Fiji Ginger Syrup for garnish, optional
directions
Preheat oven to 375°F.
Combine peaches, sugar, lemon juice, cornstarch and Minced Ginger in a large bowl. Set aside.
In a separate bowl, combine the flour, brown sugar, baking powder and salt. Add the butter and mix with a fork or your hands until just incorporated.
Slowly add the milk until crumbly. Gently mix in the pecans.
Pour the peach mixture into a large baking dish.
Drop the topping by spoonfuls over the peach mixture. Sprinkle with cane sugar.
Place the baking dish on baking sheet to catch any spills. Bake 40 to 45 minutes, or until the topping is lightly browned and the filling is bubbly and fragrant.
Serve warm and top with a scoop (or two!) of vanilla ice cream,  Crystallized Ginger or Fiji Ginger Syrup.
There are no reviews yet. Be the first one to write one.