PREP: 15 MIN  | MAKES: 8-10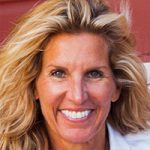 Recipe by House Chef, Abbie Leeson
Learning through travel, Abbie has eaten her way through nearly 60 countries. Australia, Finland, Morocco, Japan and France - a few of her culinary favorites. She's passionate about taking ginger into unexpected places, while still revisiting the classics like her beloved Ultimate Chewy Ginger Snaps. Favorite culinary book: Salt, Fat, Acid, Heat. Favorite moment with a fellow chef: Dinner with Julia Child, 1992. Actually, she was at the next table. We told the waiter, "We'll have what she's having."
Ginger Salmon Sushi Balls
We've taken the challenging rolling process out of the mix to bring you easy-to-make Ginger Salmon Sushi balls. Raw salmon is full of beneficial omega-3 fatty acids that make these sushi balls a nutritious and delicious meal.
ingredients
1 cup cooked white rice
Raw salmon, diced
1/4 cup diced cucumber
1-½ tablespoons of mayo
1-½ tablespoons of sriracha
1 teaspoon sesame oil
Toasted sesame seeds
1 packet roasted seaweed, crumbled
Soy sauce
directions
Dice salmon into bite-sized pieces.
In a bowl, add rice, salmon, mayo, sriracha, sesame oil, Grated Ginger, roasted seaweed and sesame seeds. Mix all ingredients together, just until combined.
Gently shape each ball to make 8-10 rice balls.
Sprinkle soy sauce on each rice ball and enjoy.
There are no reviews yet. Be the first one to write one.