PREP: 10 MIN  |  COOK: 20 MIN  |  SERVES: 2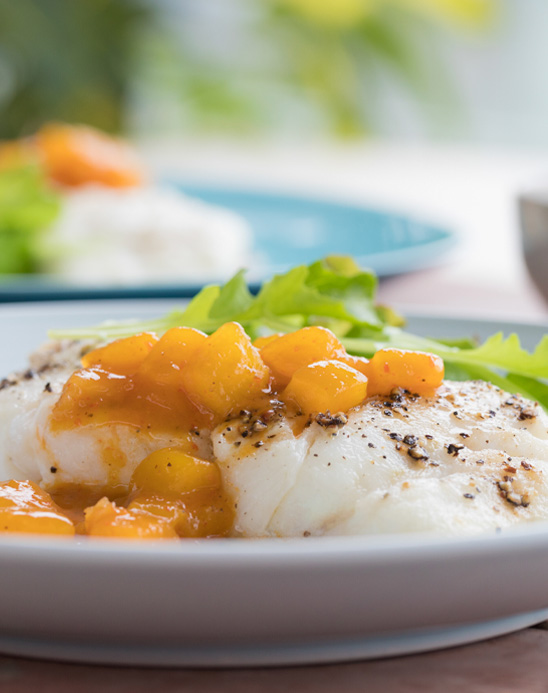 recipe note
Ever thought about pairing salsa with ice cream? Give it a swirl! Serve warm or chilled Mango-Ginger Salsa over vanilla ice cream to delight and surprise your dinner guests.
Recipe by House Chef, Abbie Leeson
Learning through travel, Abbie has eaten her way through nearly 60 countries. Australia, Finland, Morocco, Japan and France – a few of her culinary favorites. She's passionate about taking ginger into unexpected places, while still revisiting the classics like her beloved Ultimate Chewy Ginger Snaps. Favorite culinary book: Salt, Fat, Acid, Heat. Favorite moment with a fellow chef: Dinner with Julia Child, 1992. Actually, she was at the next table. We told the waiter, "We'll have what she's having."
Grilled Halibut with Ginger Mango Salsa
This blazing-hot, flavorful salsa is tempered with sweet ginger and fruity mango, then cooled with a hint of coconut and lime. Addictive and delicious over fish or as a chip dip. For slightly less kick, use finely minced jalapenos instead of scotch bonnet or habaneros.
ingredients
2 ripe mangos or papaya (paw paws), peeled and cut in (1/4-inch/5mm) cubes
1/4 cup The Ginger People® Crystallized Ginger, finely minced
2 scotch bonnet or habanero chilies, seeded
1/3 cup dark rum
1/3 cup fresh lime juice
1/4 cup coconut cream
1/2 teaspoon salt
1 tablespoon The Ginger People® Organic Ginger Syrup
1/8 teaspoon cardamom
1/8 teaspoon ground anise
1/8 teaspoon ground cloves
Pinch nutmeg
Pinch cinnamon
Halibut – Desired number halibut fillets, or other hearty fish, about 1-inch/3cm and 5oz/150g
Olive Oil
Kosher salt and fresh ground black pepper
directions
Combine cubed mango or papaya with Crystallized Ginger. Set aside.
Combine remaining ingredients, chilies through cinnamon, in a blender. (If using jalapeno, peppers can be minced instead of blending. Scotch bonnet and habanero should be blended to evenly disperse the more intense heat). Puree just until smooth, about 1 minute.
Pour into a saucepan. Add mango and ginger. Bring to a low boil, reduce heat and simmer gently for 10 minutes. Remove from heat and keep warm for serving. Salsa keeps refrigerated for 4-6 weeks.
To prepare halibut: Preheat grill to medium-high. Lightly oil grate.
Brush fillets liberally with oil; season with salt and pepper. Grill until fish flakes easily, 5-6 minutes per side. Serve with warm Ginger Mango Salsa.
There are no reviews yet. Be the first one to write one.