PREP: 10 MIN  |  BAKE: 12 MIN  |  YIELD: 18 COOKIES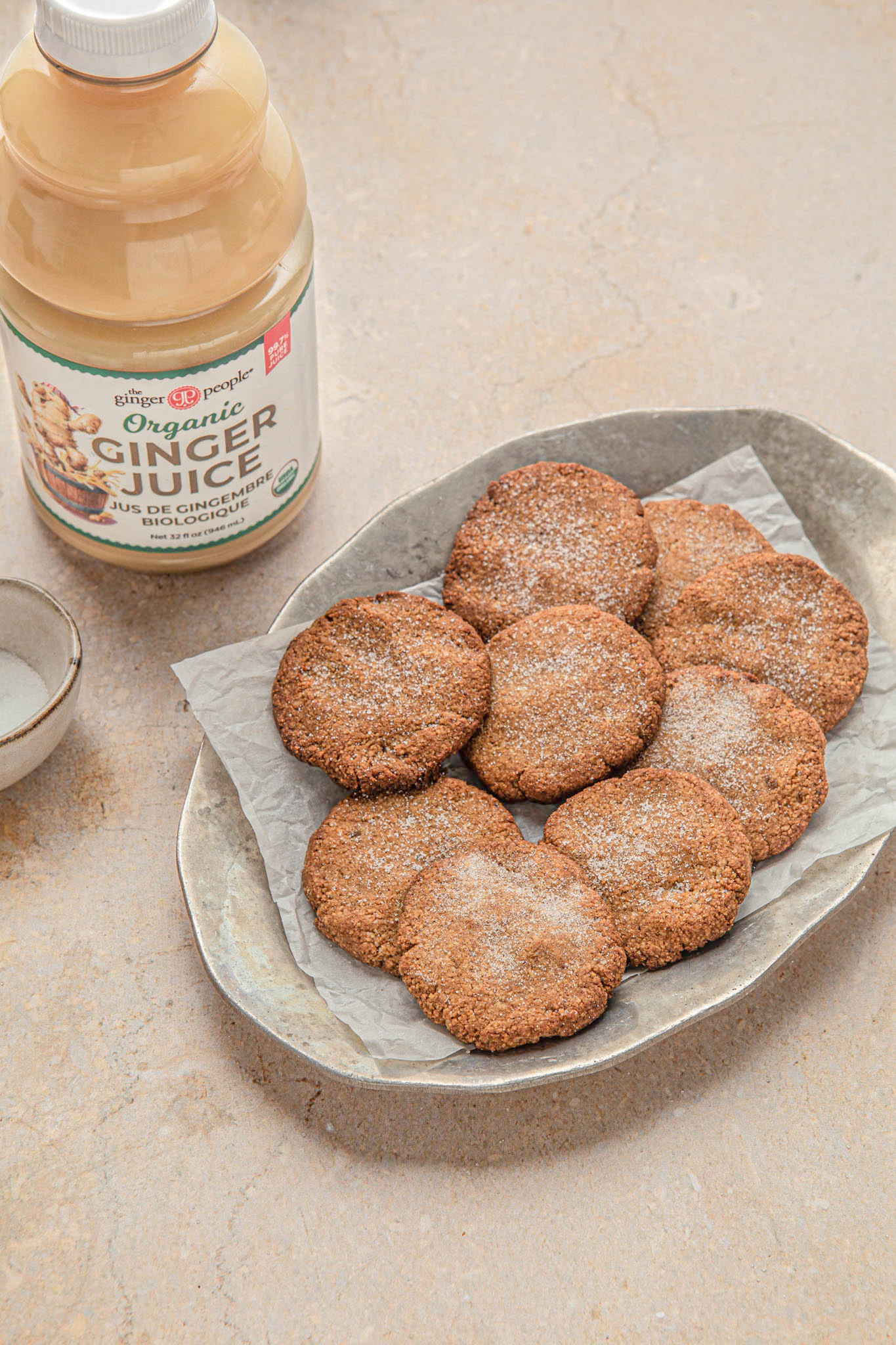 Recipe by House Chef, Abbie Leeson
Learning through travel, Abbie has eaten her way through nearly 60 countries. Australia, Finland, Morocco, Japan and France – a few of her culinary favorites. She's passionate about taking ginger into unexpected places, while still revisiting the classics like her beloved Ultimate Chewy Ginger Snaps. Favorite culinary book: Salt, Fat, Acid, Heat. Favorite moment with a fellow chef: Dinner with Julia Child, 1992. Actually, she was at the next table. We told the waiter, "We'll have what she's having."
{Keto} Chewy Ginger Cookies
These Keto cookies give you all the flavor and satisfaction of a traditional ginger cookie without all the carbs. And you can make them in a snap.
ingredients
4 tablespoons butter, softened
1 tablespoon Blackstrap molasses
1 egg, at room temperature
2 tablespoons The Ginger People® Ginger Juice
5 drops liquid Stevia
2 1/2 cups almond flour, finely ground
1/3 cup erythritol
2 teaspoons ground ginger
1 teaspoon ground cinnamon
1/2 teaspoon ground nutmeg
1 teaspoon baking soda
1/4 teaspoon pink Himalayan sea salt
directions
1. Preheat oven to 350°F.
2. Line a cookie sheet with parchment paper.
3. Using a mixer on high speed, combine butter, Blackstrap molasses, egg, Ginger Juice and Stevia. It will not cream together like typical cookies.
4. In a separate bowl, combine remaining ingredients, then add to wet mixture on low speed.
5. Roll into 3/4 ounce (small – 1 1/4 inch) balls and arrange on a baking tray with parchment paper.
6. Press each cookie to 1/2 inch thickness.
7. Bake for 12 minutes, or until the tops have lightly browned.
8. Remove from oven and sprinkle tops with erythritol.
9. Once cooled, store in an air-tight container.
There are no reviews yet. Be the first one to write one.