PREP: 5-10 MIN  |  COOK: 4-6 MIN  |  SERVES: 4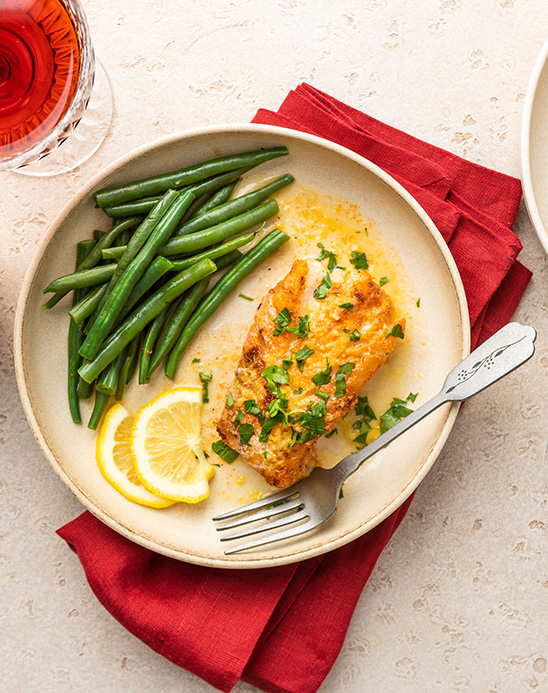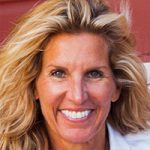 Recipe by House Chef, Abbie Leeson
Learning through travel, Abbie has eaten her way through nearly 60 countries. Australia, Finland, Morocco, Japan and France - a few of her culinary favorites. She's passionate about taking ginger into unexpected places, while still revisiting the classics like her beloved Ultimate Chewy Ginger Snaps. Favorite culinary book: Salt, Fat, Acid, Heat. Favorite moment with a fellow chef: Dinner with Julia Child, 1992. Actually, she was at the next table. We told the waiter, "We'll have what she's having."
This easy fish recipe goes from stovetop to tabletop in less than 20 minutes. Perfect for keeping things healthy and quick on a weeknight, and elegant enough for a special date at home. Fish infused with a light lemon ginger butter sauce paired with flavorful veggies makes it the perfect union.
ingredients
4 firm white fish fillets, about 6 inches long, 1-inch thickness (cod, halibut, or mahi mahi)
3 tablespoons melted butter or GHEE
2 tablespoons The Ginger People® Ginger Juice
Juice and zest from 1 medium lemon, plus a second lemon for serving
1/2 teaspoon kosher salt, plus extra to taste
1 teaspoon paprika
1 teaspoon garlic powder
1 teaspoon onion powder
1/4 teaspoon freshly ground black pepper
3 tablespoons olive oil
Freshly chopped basil or parsley leaves, for garnish and flavor
directions
Use paper towels to thoroughly pat-dry excess moisture from fish fillets. This step is crucial for fish to brown nicely in pan. Otherwise, it will steam instead of brown. Set aside.
In a bowl, combine melted butter, Ginger Juice, lemon juice, zest and 1/2 teaspoon kosher salt. Stir to combine. Taste and add a bit more kosher salt, if desired
In a separate bowl, combine the remaining 1/2 teaspoon kosher salt, paprika, garlic powder, onion powder and black pepper. Evenly press spice mixture onto all sides of fish fillets.
In a large, heavy pan over medium high heat, heat olive oil until hot. Once your oil is sizzling, cook 2 fish fillets at a time to avoid overcrowding (allows for even browning). Cook each side just until fish becomes opaque, feels somewhat firm in the center and is browned, about 2-3 minutes per side; lightly drizzle some of the lemon ginger butter sauce as you cook, reserving the rest for serving. Remove fish to plate or cutting board and cover with foil to keep warm. Repeat process with remaining fillets. Take care not to over-cook, as that will result in a tougher texture. Season with extra kosher salt and freshly ground black pepper to taste.
Serve fish with remaining lemon ginger butter sauce, basil or parsley and lemon wedges.
There are no reviews yet. Be the first one to write one.