PREP: 5 MIN  |  MAKES: 1 Drink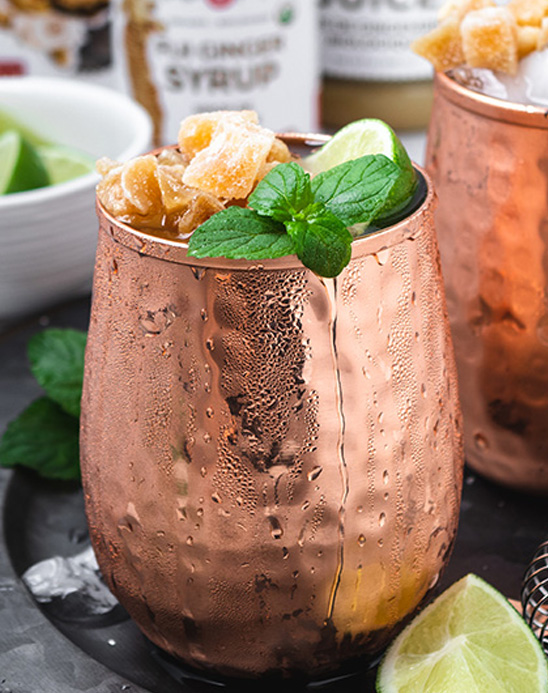 recipe note
Kentucky Mule – substitute vodka for bourbon.
Mexican Mule – substitute vodka for tequila.
Irish Mule – substitute vodka for Irish whiskey.
Recipe by House Chef, Abbie Leeson
Learning through travel, Abbie has eaten her way through nearly 60 countries. Australia, Finland, Morocco, Japan and France – a few of her culinary favorites. She's passionate about taking ginger into unexpected places, while still revisiting the classics like her beloved Ultimate Chewy Ginger Snaps. Favorite culinary book: Salt, Fat, Acid, Heat. Favorite moment with a fellow chef: Dinner with Julia Child, 1992. Actually, she was at the next table. We told the waiter, "We'll have what she's having."
A spectacularly snappy cocktail that's also incredibly simple. There are no big secrets to making a great Moscow mule—all you need is vodka, ginger beer and lime juice. Popularly served in a copper mug, which takes on the cold temperature of the liquid.
ingredients
directions
Fill a cocktail shaker three-fourths full of ice; add vodka, lime juice, Ginger Syrup and Ginger Juice. Shake until chilled, about 15 seconds.
Add crushed ice to a chilled copper mug or glass. Strain shaken cocktail into mug. Top with sparkling water. Stir and garnish with Crystallized Ginger.
There are no reviews yet. Be the first one to write one.