PREP: 20 MIN  |  BAKE: 10 MIN  |  MAKES: 2 DOZ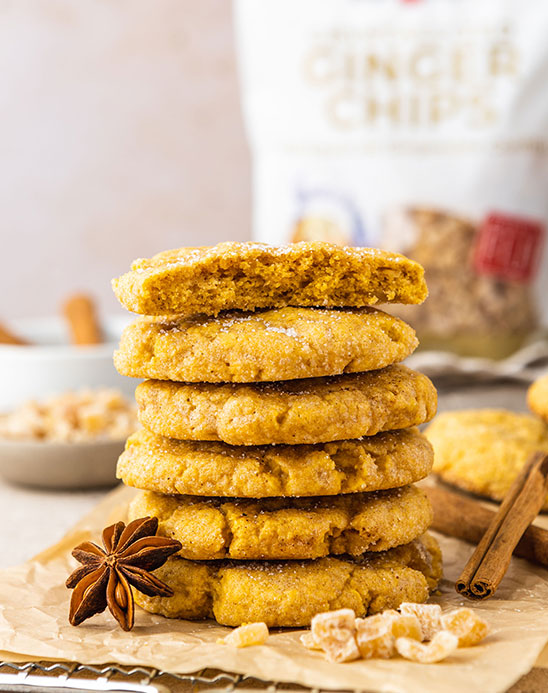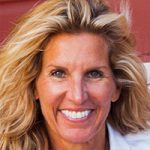 Recipe by House Chef, Abbie Leeson
Learning through travel, Abbie has eaten her way through nearly 60 countries. Australia, Finland, Morocco, Japan and France - a few of her culinary favorites. She's passionate about taking ginger into unexpected places, while still revisiting the classics like her beloved Ultimate Chewy Ginger Snaps. Favorite culinary book: Salt, Fat, Acid, Heat. Favorite moment with a fellow chef: Dinner with Julia Child, 1992. Actually, she was at the next table. We told the waiter, "We'll have what she's having."
This is the perfect gifting cookie for the fall and winter holidays. Stack and pack them in clear cellophane bags and weal with a sweet ribbon and gift away for the festive party season. The Ginger People cookie lab gives this one a big thumbs up. 
ingredients
1-1/2 cups all purpose flour

1/2 teaspoon baking soda

1 teaspoon cream of tartar

1/4 teaspoon cinnamon

1/4 teaspoon ginger powder

1-1/2 teaspoon pumpkin spice, divided

1/4 teaspoon salt

1/2 cup butter

1 teaspoon vanilla extract

1/2 cup dark brown sugar

1/4 cup + 2 tablespoons granulated sugar, divided

1 large egg yolk room temperature

1/4 cup pumpkin puree
directions
1. In a medium size bowl, whisk together flour, baking soda, cream of tartar, salt, cinnamon, ginger powder, 1/2 teaspoon pumpkin spice and Crystallized Ginger until well combined.
2. Fit the stand mixer with the paddle attachment or use a hand mixer with a large bowl and cream together butter, brown sugar and 1/4 cup granulated sugar until well combined and fluffy, about 1-2 minutes on high.
3. Add in room temperature egg yolk, vanilla extract and pumpkin puree, mixing until just combined, scraping down the sides of the bowl so everything is incorporated.
4. Carefully add in dry ingredients with mixer on low until just combined. Do not overmix!
5. Cover cookie dough tightly and chill in the refrigerator for at least 30 minutes.
6.  When ready to bake, preheat oven to 350 degrees
7. In a shallow dish, thoroughly combine 2 tablespoons granulated sugar with 1 teaspoon pumpkin spice with a fork until well mixed.
8. Form the cookie dough into 1 inch balls and roll in sugar and pumpkin spice mixture. Place cookie dough balls on parchment or silpat lined baking sheets, leaving about a 1-1/2 inches of space between them so they don't run together when they spread in the oven.
9. Bake for 10-13 minutes until cookies are set. They will be golden and crackly on the top. Let cool for about 5 minutes and then transfer to wire rack to cool completely.
Very good, not too sweet.