PREP: 20 MIN  |  COOK: 15 MIN  |  REFRIGERATE: 1-24 HRS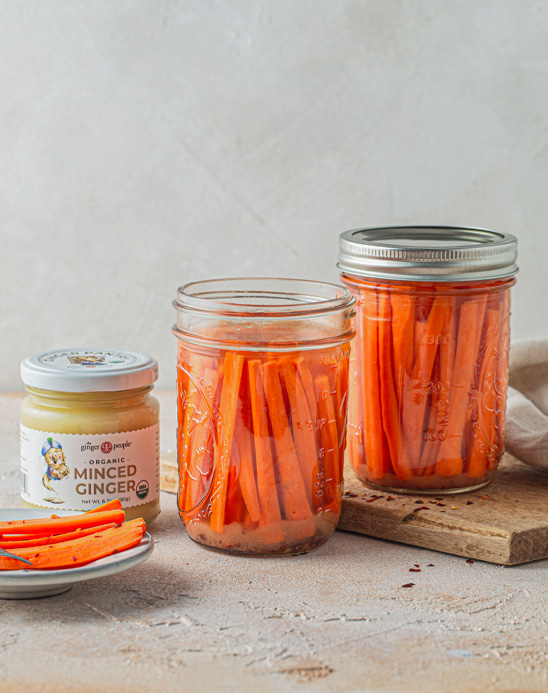 Recipe by House Chef, Abbie Leeson
Learning through travel, Abbie has eaten her way through nearly 60 countries. Australia, Finland, Morocco, Japan and France – a few of her culinary favorites. She's passionate about taking ginger into unexpected places, while still revisiting the classics like her beloved Ultimate Chewy Ginger Snaps. Favorite culinary book: Salt, Fat, Acid, Heat. Favorite moment with a fellow chef: Dinner with Julia Child, 1992. Actually, she was at the next table. We told the waiter, "We'll have what she's having."
Quick Pickled Ginger Carrots
You can make these pickled carrots as spicy as you wish; just adjust the red pepper flakes up or down. Great for Bloody Marys or use as a colorful and healthy addition to a crudités platter.
ingredients
2 pounds (908 g) peeled carrots
2 cups (475 ml) unseasoned rice wine vinegar
1-1/2 cups (350 ml) water
3 tablespoons (15 g) The Ginger People® Organic Minced Ginger
3 whole star anise
3/4 cup (144 g) raw or granulated sugar
1 teaspoon (5 g) crushed red pepper flakes (optional)
1 clove garlic, peeled and minced
1 teaspoon kosher salt
directions
Cut carrots in half so each piece is about 3-4 inches long. Then cut lengthwise to make sticks about 1/4 – 1/2 inch thick depending on your preference.
In a medium saucepan, combine the vinegar, water, Minced Ginger, star anise, sugar, crushed red pepper flakes, garlic and salt. Bring to a boil, stirring just until the sugar is dissolved.
Add the carrot sticks to the brine. Bring the liquid back to a boil, about 2 minutes. Turn off the heat.
Immediately use tongs to divide the carrot sticks and star anise between sterilized mason jars, leaving 1/2 inch (13 mm) headspace.
Pour the hot brine over the carrot sticks, being sure to cover them. Seal jars well and shake to combine. Then refrigerate for at least 1 hour. The flavors will deepen and intensify the longer it marinates. Best flavor is achieved after 24 hours. Will keep in the refrigerator for 2-3 weeks.
Delicious! A new way to eat carrots 😀