PREP: 10 MIN  |  COOK: 10-15 MIN  |  SERVES: 6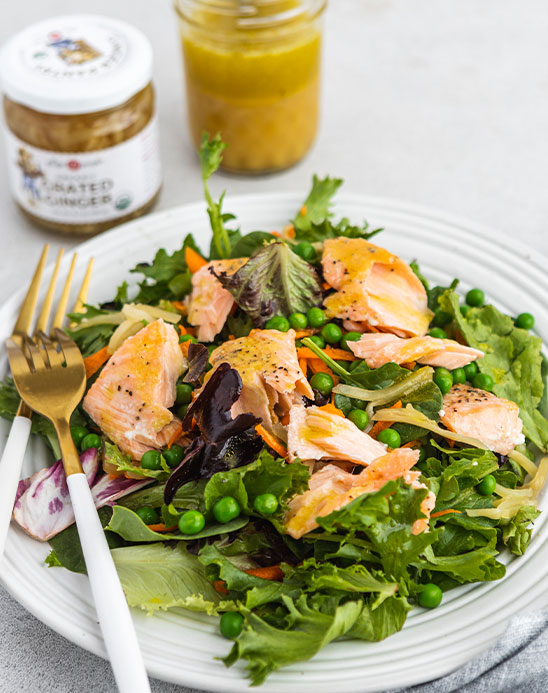 Recipe by House Chef, Abbie Leeson
Learning through travel, Abbie has eaten her way through nearly 60 countries. Australia, Finland, Morocco, Japan and France - a few of her culinary favorites. She's passionate about taking ginger into unexpected places, while still revisiting the classics like her beloved Ultimate Chewy Ginger Snaps. Favorite culinary book: Salt, Fat, Acid, Heat. Favorite moment with a fellow chef: Dinner with Julia Child, 1992. Actually, she was at the next table. We told the waiter, "We'll have what she's having."
Turmeric Ginger Salmon Salad
This satisfying, nutrient-rich salad takes advantage of summer seasonal produce like peas and radishes. The homemade turmeric ginger vinaigrette brings a fresh, tanginess you won't get out of store-bought dressings.
ingredients
Salad
2 lbs salmon filet
1 Tbsp extra-virgin olive oil
1/2 tsp salt
1/2 tsp pepper
2 cups fresh or frozen peas
10 cups spring lettuce mix
2 cups carrots, shredded
1/2 cup The Ginger People® Grated Ginger
Turmeric Ginger Vinaigrette
1/2 cup apple cider vinegar
1 1/2 Tbsp dijon mustard
1 1/2 Tbsp honey
1/4 tsp kosher salt
1/4 tsp black pepper
1/2 cup extra virgin olive oil
directions
Preheat the oven to 375°F. Brush salmon with olive oil and season with salt and pepper. Bake for 10 to 15 minutes, until salmon feels slightly firm to touch but not cooked through. Remove. It will continue to cook as it cools.
While the salmon bakes, bring a small saucepan of water to a boil then submerge fresh peas. Cook for 1 minute until peas begin to float. Move to an ice bath.
Next, make the vinaigrette. Combine all ingredients except the oil in a small bowl. Slowly whisk in olive oil.
To assemble the salad, place greens in a large bowl, add blanched peas, carrots, Grated Ginger (drained of brine), then flake on the roasted salmon. Drizzle on dressing and serve.
There are no reviews yet. Be the first one to write one.