PREP: 5 MIN  |  COOK: 10 MIN  |  SERVES: 4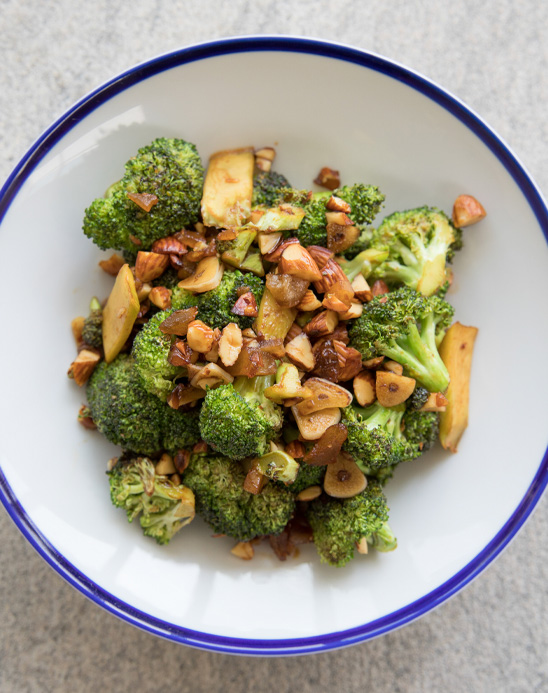 recipe note
Serve as a vegan entrée over cooked rice with pan-browned cubed tofu. Or add cubed tofu in step 4.
Recipe by House Chef, Abbie Leeson
Learning through travel, Abbie has eaten her way through nearly 60 countries. Australia, Finland, Morocco, Japan and France – a few of her culinary favorites. She's passionate about taking ginger into unexpected places, while still revisiting the classics like her beloved Ultimate Chewy Ginger Snaps. Favorite culinary book: Salt, Fat, Acid, Heat. Favorite moment with a fellow chef: Dinner with Julia Child, 1992. Actually, she was at the next table. We told the waiter, "We'll have what she's having."
Warm Broccoli Salad with Crystallized Ginger
Sweet-spicy Crystallized Ginger with salty soy sauce, a touch of lemon and crunchy almonds takes broccoli from dull to delightful. You'll want more than one serving! 
ingredients
1 pound or one bunch of broccoli
1/2 cup chopped almonds
3 tablespoons vegetable or olive oil, divided
3 cloves garlic, thinly sliced
1/4 cup packed The Ginger People® Crystallized Ginger, finely chopped
2 tablespoons soy sauce
1 tablespoon lemon juice
directions
Cut broccoli flowerets into bite-size pieces. Trim stems and slice diagonally.
Heat a wok or wide skillet over medium-high heat. Add 1 tablespoon oil and sauté almonds 1-2 minute or just until toasted. Remove from pan with slotted spoon. Reserve. Wipe pan clean with paper towel.
Add remaining oil and broccoli; stir fry until barely tender, 3-5 minutes. Add garlic and stir fry additional 2 minutes or until broccoli is tender-crisp.
Stir in Crystallized Ginger, soy sauce, lemon juice and reserved almonds. Continue stir frying about 1 minute for flavors to blend. Serve warm or room temperature.
There are no reviews yet. Be the first one to write one.